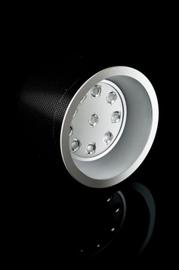 Date Announced: 24 Feb 2012
Rowland Heights, CA – Announcing the expansion of Meteor's SSL offerings with the addition of a 140W model to its High Ceiling LED Platform Series.
This brings expanded options for both commercial and industrial High Bay installations.
When Meteor launched their 112W offering in 2011 Q2 it wowed the industry with its low profile, advanced optical design, efficient LED light engine, superior thermal management, luminous efficiency greater than 70 LPW, optional CRI 85+, 5-year warranty and most importantly, Meteor's proprietary Light Engine Technology (which is up to 120x more efficient than traditional heat sink technology). These features earned it the prestigious Progress Award from the Illuminating Engineering Society (IES).
Meteor's brand-new 140W LED model touts the same advanced features as the 112W, except that it boasts not one, but two light engines for an output of 12000 lumens, all within the exact same dimensions and profile as the 112W. This new 140W model is designed specifically to replace conventional incandescent and metal halide light sources in a wide variety of commercial and industrial applications. It's low-profile, lightweight design, along with an optional diffuser for low-glare and uniform light distribution, makes it ideal for many applications such as warehouses, aisles, gymnasiums, atriums, shopping malls, retail stores, train stations, airports, stadiums, and general area lighting.
Boasting a 5-year warranty and engineered with CREE LED, advanced thermal technology, and Philips' Advance Driver, Meteor's High-Ceiling 140W LED Platform achieves high performance, energy savings and sustainability for smart lighting control.
A low-ceiling 56W model has also been announced.
Contact
Susan Kim Marketing Dept. Meteor Solar LED / ILOS Corp. 213-255-2060 F:213-596-3704
E-mail:skim@meteor-lighting.com