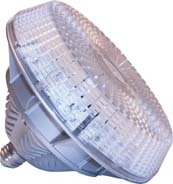 Date Announced: 01 Feb 2012
-- LED Replacement Bulb Represents Lighting Breakthrough for Parking Garages and Warehouses
BARRINGTON, Ill—Light Efficient Design (www.led-llc.com) announces the introduction of the new LED-8025 Garage/Utility bulb. Designed for low bay applications in parking structures and warehouses, this patent pending bulb replaces existing High Intensity Discharge (HID) or High Pressure Sodium (HPS) bulbs. Up until now, facility managers and building engineers needed to add the cost of a new fixture when weighing the decision to switch to LED. Now they can save three ways:
1. Save energy costs – the 52W bulb replaces up to 175W metal halide bulb.
2. Save maintenance costs – each bulb has an estimated 50,000 hour life, reducing labor for bulb replacement.
3. Save on overall retrofit project costs – simply replace existing bulbs with LED bulbs, rather than more costly LED replacement fixtures.
"This bulb is a breakthrough for Light Efficient Design and for the electrical industry," says CEO Tim Taylor. "One of the biggest obstacles to LED lighting conversion projects is the initial replacement cost—and we've just put the price in line." The unique design includes an active cooling feature comprised of a Delta 70,000 hour fan. Light Efficient Design reviewed many different UL fans before settling on Delta in order to ensure the highest quality components and backs each bulb with a 5-year warranty.
LED-8025 Garage/Utility Bulb Product Features:
• 52W
• Replaces up to 175W MH
• 5700K Daylight (other K's available)
• 3200 Lumens
• Dual Voltage (120-277V)
• CRI 85
• Active Cooling (Delta 70K Hour Fan)
• Med base
• Not dimmable
• UL listed Damp Location
• LM 79
• Operates to 50 C (122 F)
• 50,000 hr. life
• 5 year warranty
• Patent Pending
Light Efficient Design, formerly known as Light Emitting Designs, is a Division of TADD LLC. It was founded in 2007 as a supplier of quality LED retrofit products with a focus on the Electrical Distribution channel. Its product line includes PARs, MRs and T8s, as well as niche products like High Bays, Post Tops and Wall Packs. Light Efficient Design supplies a full line of LED products to meet commercial, industrial and municipal demand.
Contact
Frank Wysaski, VP Marketing 108 S. Wynstone Park Drive, Suite 103; North Barrington, IL 60010 Telephone: (847) 380-3540 fwysaski@led-llc.com
E-mail:fwysaski@led-llc.com
Web Site:www.led-llc.com