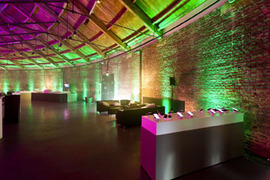 Date Announced: 14 Feb 2012
Leading UK rental company, Visual Elements has upgraded 100 Chroma-Q™ Color Block™ DB4 LED Fixtures in its inventory to the new Color Block Plus Replacement Engine.
The new engine utilises the very latest generation of LED and optics, resulting in over two and a half times the light output - an impressive 750 lumens - of the original Color Block DB4 (290 lumens) with the internal switch set to full power.
Visual Elements is headed by Mike Townsend and is a busy provider of design and equipment rental services to corporate and live events. They have over 300 Color Block DB4s in their inventory, the first of which were purchased five years ago when the product was first launched, and they are still going strong today.
Mike explains how the replacement engines have made a huge difference. "There is no comparison - it has completely transformed the fixture, giving them a new lease of life that fits into the same housing, making implementation highly cost effective."
He's so pleased with the results that the next 100 are going to be upgraded imminently!
The robust and reliable Color Block DB4 fixtures were amongst the brightest units available in their day as the then first generation of affordable, high quality LED fixtures. This cost-efficient replacement engine option is available, via authorised Chroma-Q service agents, to all rental operations and Color Block DB4 users.
Visual Elements' Color Block DB4 fixtures are used extensively for a wide variety of applications including wall washing and for set and scenic illumination.
Apart from being smaller, brighter and lighter, using LED and less power hungry lighting fixtures can reduce costs substantially for projects like exhibitions, where in some cases a three phase power supply can be reduced to a couple of 13 amp sockets.
"A lot of corporate clients are also interested in suppliers' green credentials, so offering technology that can help reduce the overall carbon footprint is a big plus" confirms Mike.
Photo Credit: HTC Event at The Roundhouse © Steve Squires at Sutherland Smith
Contact
For more press info. on Chroma-Q, please contact Louise Stickland on +44 7831 329888 or +44 1865 202679 or EMail louise@loosplat.com For more general and product information, please visit www.chroma-q.com or email sales@chroma-q.com
E-mail:louise@loosplat.com
Web Site:www.chroma-q.com