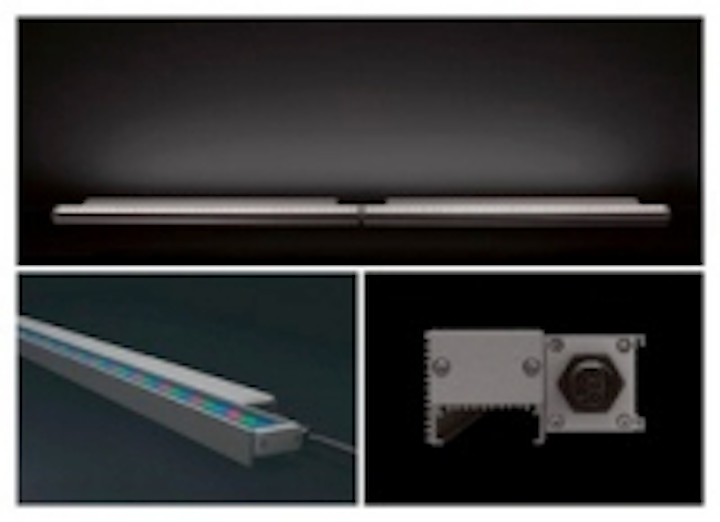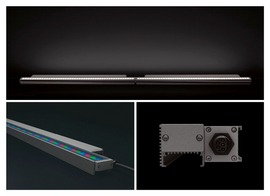 Date Announced: 09 Feb 2012
Montreal, QC - Lumenpulse Inc. today announced the release and immediate availability of Lumenfacade Horizontal, a linear, high-performance, LED projector with a slim, 2-inch profile. Developed for exterior floodlighting and wall grazing of tall structures, the Lumenfacade Horizontal's low-profile design makes it easy to conceal and integrate into architectural facades.
The unique design repositions the driver chamber to hide it from view, reducing the height of the luminaire while simultaneously concealing all wiring and mounting details.
Furthermore, each luminaire can be mounted end-to-end to form a continuous line of up to 152 feet using a single power feed (regular output version), reducing the need to compromise the facade by drilling holes to accommodate junction boxes.
"Architecture should be enjoyed free of bulky lighting fixtures," said Yvan Hamel, Lumenpulse Vice President of Product Development. "We charged our design team to come up with a product that would fully respect a building's architecture while also producing the high-quality light desired to enhance it. Lumenfacade Horizontal achieves this in new and exciting ways."
Lumenfacade Horizontal is available in 1', 2', 3', or 4' sections and is offered in white (2700K, 3000K, and 4000K), static colors, and RGB. A line voltage luminaire, it is ready for all power inputs from 120 to 277 V and the IP66-rated fixture utilizes Lumenpulse's dual chamber technology, which helps dissipate heat creating an industry leading L70 lifetime of 120,000 hours. It also offers unmatched photometric performance producing 2,912 delivered lumens and 16,615 candelas at nadir and a minimum of 1 fc at a distance of 129 feet (4000K, 4' unit, 10˚ x 60˚, HO version). The Lumenpulse standard 5 year warranty is included, and covers the complete assembly.
Full details are available on the Lumenpulse website at http://www.lumenpulse.com/en/products/367 (white and static colors), and http://www.lumenpulse.com/en/products/366 (RGB version).
About Lumenpulse Inc.
Founded in 2006, Lumenpulse develops and manufactures high performance, sustainable architectural LED-based fixtures and solutions for commercial, institutional, and urban environments. Attention to detail in mechanical, optical and fixture design has positioned Lumenpulse as a leader in the global LED lighting marketplace for indoor and outdoor uses. Lumenpulse has a global presence through its Corporate Headquarters in Montreal, Canada, US Headquarters and Global Technology Development Center in Boston, Massachusetts and EMEA Headquarters in London, UK.
For more information, please visit www.lumenpulse.com.
Contact
Jason Broadhurst Lumenpulse Phone: 1-877-937-3003
E-mail:jbroadhurst@lumenpulse.com
Web Site:www.lumenpulse.com/en/products/367