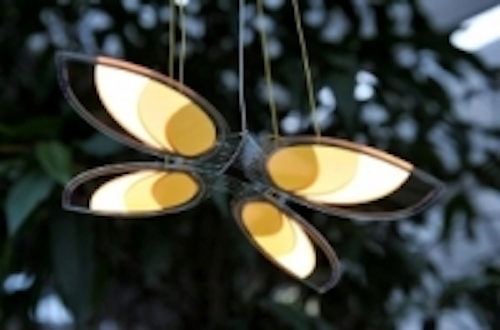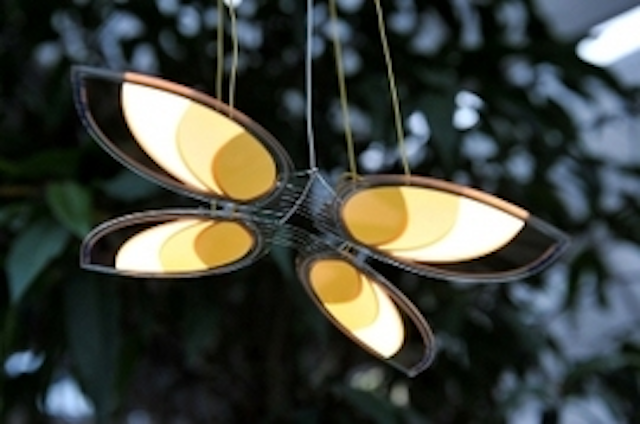 Date Announced: 23 May 2012
COMEDD presents dynamic OLED lighting at LOPE-C
Organic Light-Emitting Diodes (OLEDs) offer unique scopes for luminaire designs: They can be quasi transparent when switched off. They can be produced at very thin glass or foils. Totally different shapes, colors and color temperatures are possible and they can be dimmable. Finally, several light segments of a luminaire can be driven individually that they appear darker or brighter, but also variable patterns can be realized – the so-called "dynamic light".
In the last years COMEDD (Center for Organic Materials and Electronic Devices Dresden) – well-established as the center of the European OLED research – has developed a multitude of OLED area illuminants and has manufactured them according to the customers specifications. OLED modules with modular sizes are available under the brand TABOLA®.
Dr. Christian May, deputy director of COMEDD, proudly states: "COMEDD's modular design principle permits the whole range of OLED lighting panels up to a size of 33 cm x 33 cm starting with several standard format options, which are quickly and regularly deliverable. As the first real area light source, OLEDs can be designed in a way that allows individual segments to be dimmed differently or switched on and off with a remote control. This creates a totally new impression of light, that can be varied down to someones whim."
Dynamic lighting is conceivable especially for living and wellness areas, but it could play an important role also for technical lighting solutions. By this, the localized illumination of an item, work piece or part of a machine in a defined time and brightness is possible. Depending on the design of the OLED these settings are easily configurable by mobile phone or laptop. In view of the totally new opportunities it's no wonder that designers and manufacturers of luminaires from all over the world are excited about this novel kind of light. At the moment the COMEDD scientists work on OLED area lighting on flexible materials such as plastic or metal foils. Color changing and transparent luminous sheets are coming up in the near future.
Contact
Fraunhofer IPMS Ines Schedwill Head of Marketing COMEDD Maria-Reiche-Str. 2 01109 Dresden GERMANY ´ Tel.: +49 (0) 351/8823-238 Fax: +49 (0) 351/8823-266 e-mail: ines.schedwill@ipms.fraunhofer.de Internet: www.ipms.fraunhofer.de
E-mail:Ines.Schedwill@ipms.fraunhofer.de
Web Site:www.ipms.fraunhofer.de