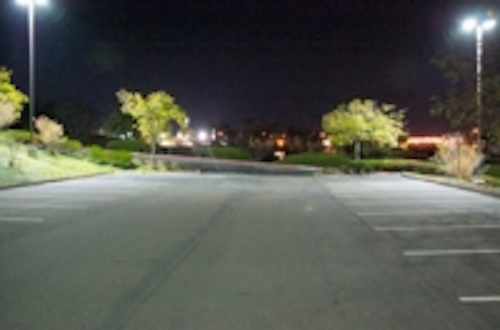 Date Announced: 08 May 2012
The CEO Challenge
In 2010, the CEO of Travis Credit Union (TCU) asked the department heads for new ideas about how to be a good community partner. Many of the responses proposed ways that TCU could set an example of environmental stewardship - to be "green".
The winning idea: convert 86 outdoor light fixtures on their 9 acre campus from metal halide to clean, efficient LED lighting from Xeralux.
The Situation
Travis Credit Union's campus is on 9 acres of land, prominently located in Vacaville within sight of highway I-80, the main thoroughfare between Sacramento and San Francisco, California. Much of that land is occupied by a large, 450-space parking lot.
Ken Nagy, AVP of Facilities and Support Services at TCU, investigated several ways to reduce TCU's environmental footprint. TCU is a time-of-use customer of Pacific Gas & Electric (PG&E), so Ken can see his energy usage in 15 minute intervals. He noticed that his building was using 200 kW of power, even when the building was unoccupied and the A/C was turned off. TCU's parking lot was illuminated by 400W metal halide, shoebox-style fixtures. It turned out that these were consuming a lot of that power.
Furthermore, lighting maintenance was a problem. TCU had to hire an electrical contractor with a lift to change bulbs and ballasts. This was expensive -- the contractor charged $150 per visit just for the lift, and costs had already risen to well over $1500 per year.
So he began to search for a solution.
The Search
Ken did a lot of research. He started by talking with his local electrical contractor, but did not have confidence that the contractor had the experience or expertise with different lighting technologies to contribute to the decision.
Ken considered induction, but did not think he would save as much. He also saw over and over that LEDs are the product of the future, and did not see that about induction.
The thing that convinced him the most about LEDs was a webinar by the US DOE about LED lighting. A lot of the case studies were parking lots. This boosted his confidence that the technology was ready.
Ken talked with Ann Dennison of PG&E about lighting alternatives, including LEDs. Ann had seen Xeralux at another customer and had become aware of what Xeralux could do. What intrigued him about Xeralux was that he was able to upgrade his existing fixtures. Knowing the TCU decision-making process, he knew that putting up new fixtures would have created a completely separate, additional battle to choose the right fixture. The Xeralux retrofit eliminated that battle. When Ken asked Xeralux for a proposal, he expected that retrofitting 86 lights would cost $100,000-$150,000.
The Xeralux bid came in at half that.
The Decision
"I gave a big sigh of relief when I found it was half my expected costs," said Ken, "We seriously consider projects with 5-7 year paybacks. When the Xeralux retrofit came in at just 2.5 years, it was an easy decision."
Even then, Ken did a thorough technical and background check. Xeralux presented to Ken and his boss, and demonstrated the retrofit process, which took just 6 minutes. They took photometric measurements and did 3D simulations of the site to show what it would look like. Ken talked to other Xeralux customers, and even interviewed a Xeralux installer. He gave Xeralux the go-ahead.
Implementation
Implementation was done by a single contractor over a period of 3 weeks. The additional time was spent numbering poles, rewiring circuits, changing the old 480V AC circuits to 277V, simplifying and redrawing the design and circuit panel, and reducing the total number of circuits from 10 to just 6. Not only was this work above and beyond the call, but the quality of the work was excellent.
Lighting Results
Ken took a drive around the upgraded lot one evening with his wife and mother. Both women spontaneously commented that they really liked the quality of light. They all noticed that the LEDs have a different quality of light - they appear whiter and clearer, not as yellow. The Xeralux retrofits also seem to put more light on the ground, with less up-light than the old metal halide bulbs. All three security guards have also said they really like the light, and Ken has not heard one bad comment.
"The Xeralux retrofit was half my expected costs. We seriously consider projects with 5-7 year paybacks. When the Xeralux retrofit came in at just 2.5 years, it was an easy decision."
- Ken Nagy, AVP Facilities & Support Services
Savings
Ken continues to make extensive use of the PG&E energy reporting website.
Comparing his current power consumption from 10pm to 6am with early June, before the installation, Ken sees that he has reduced his nighttime electrical load by 25-28 kW, throughout the night.
One thing Ken likes about the Xeralux system is that it has a driver capable of bi-level or continuous dimming. He expects that, after 6-12 months of getting a feel for the lights, he will put occupancy sensors on each light to reduce the light level when the lot is empty. Assuming that he dims the light to 25% power when unoccupied, and that any given fixture is unoccupied 80% of the time, this would provide a total of 90% savings over metal halide!
For more information, contact Xeralux or your local Xeralux representative.
Contact
Jay Shuler VP Marketing Xeralux, Inc. 690 Saratoga Ave, Suite 100 San Jose, CA 95124 (408) 505-2844
E-mail:jshuler@xeralux.com
Web Site:www.xeralux.com