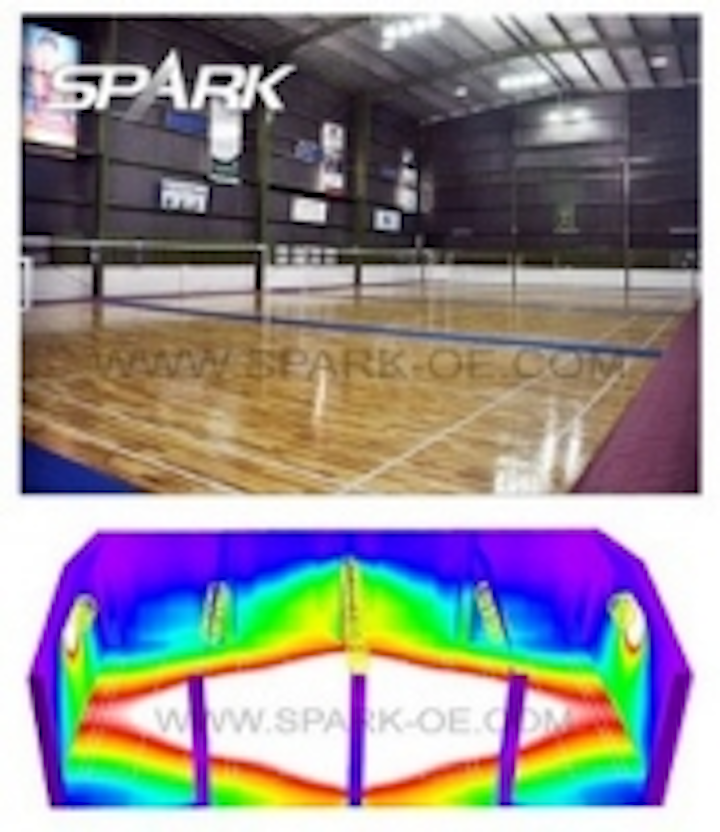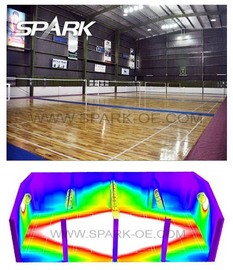 Date Announced: 23 May 2012
This is an indoor badminton court in India; it's used for the training and entertainment for the colleague student Bombay. In the past, they were using 250w metal halide light 20sets in this badminton court, now they want spark retrofit to LED for energy saving.
The court size is 105 feet x 62 feet (L x W) and height is 32 feet. Now they put halazen light in 25 feet height and the average lux is about 200. In this project, we recommend spark 120w SPG-120 high bay light to them. It can directly replace the traditional lighting such as high color rendering metal halogen lamp product, and meet adequate, uniform illumination requirement for badminton courts, table tennis, billiards and other sports venues.
Flare is an important factor that estimates illuminating quality. The badminton court glare is direct glare. The player will feel dazzling when they move, due to ceiling with lower height. The player's eye will feel unconformable after long time; will affect player's eyesight on ball's moving. Meanwhile, the stability of light affect human's health directly and also causes the decrease of vision ability. The periodicity change of the current cause the unsteadiness of light then there will be obvious flashing on artificial lighting.
Spark LED high bay light with professional optical lens design, enables effective exposure of light within the scene, and brightness smaller auditorium, thus increasing brightness than the pitch, also help athletes make out what course of action. High quality white light aims to provide the best watching effect for match. Instant start, no strobe, no adverse glare, wide operating voltage range; over voltage, under voltage protection, safe and reliable, long service life, easy installation and maintenance.
The dialux simulation testing report says the average luminous flux in ground is more than 250lux. Meanwhile we save more than 60% energy every day. Customer is very excited about the solution we gave, they are very happy to start this new business with spark, also we believe it is just the begin of our cooperation; they will be more chance in the future.
Contact
Keziah Song General Manager Tel: (86 755) 8390 4366 Fax: (86 755) 8390 4766
E-mail:sales@spark-oe.com
Web Site:www.spark-oe.com