Energy-efficient GE LED street lighting works wonders for any size city
May 10th, 2012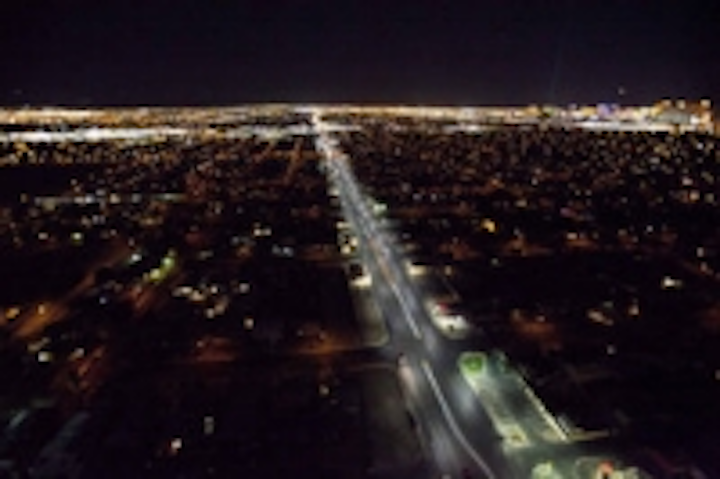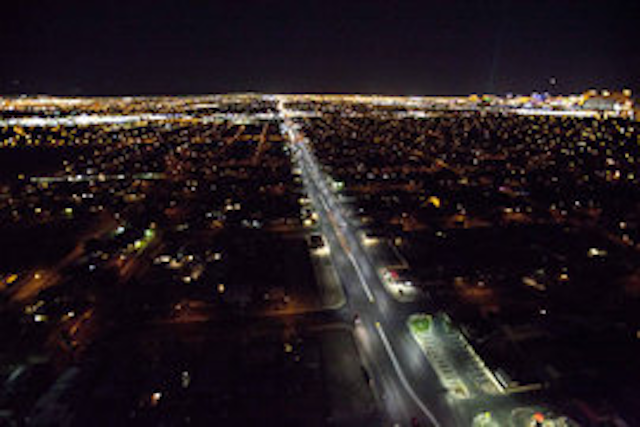 Date Announced: 10 May 2012
LAS VEGAS (May 9, 2012) — From Las Vegas to Superior, Neb., GE's Evolve™ LED Roadway fixtures are saving cities, big and small, a bundle on energy costs. With the installation of more than 41,000 GE Evolve LED streetlights, Las Vegas will reduce combined electricity and maintenance expenses to nearly $2.7 million a year while in Superior, 600 LED fixtures have shaved $20,000 off annual spending for the town of 2,000.
Whether a metropolis of millions or hometown to hundreds, GE's LED street lighting savings are universal for all cities. Evolve LED Roadway fixtures yield up to a 50 percent reduction in system energy compared to standard high-intensity discharge (HID) systems. Las Vegas will use 20 million fewer kilowatt hours (kWhs) to power streetlights beginning in 2013. Since 2010, Superior has saved more than 200,000 kWhs a year thanks to GE's energy-efficient fixtures.
GE convened a panel discussion today to explore how cities across the country are benefitting from LED street lighting at LIGHTFAIR International, the world's largest lighting trade show, being held this week in Las Vegas.
Panelist Tim Miller, global LED fixture product manager, outdoor applications, GE Lighting, commented, "We're seeing a rapid adoption of LED systems for roadways across the globe. Cities are realizing very real energy and maintenance savings, and if they haven't already adopted LEDs, many towns are in the process of testing them and researching the possibility of their use."
Customers in Spain, China, Mexico and nearly every corner of the world are also replacing legacy lighting systems with Evolve LED Roadway fixtures, made in North Carolina. For other cities having recently adopted GE's LED lighting technology, include Stamford, Conn., where 1,000 fixtures have made a $146,000 difference, and Sydney, Australia, where more than 6,400 fixtures will save $850,000 annually.
Roadways are the new frontier of the solid-state lighting revolution. The U.S. Department of Energy estimates the installed base of street and highway lights in the U.S. alone is approximately 52 million. Currently, only one percent of U.S. streetlights are LED. For cities like Las Vegas and Superior, making this choice can save more than 50 percent in energy costs over an estimated 11-year service life that virtually eliminates maintenance costs and hassles.
City of Las Vegas
The Las Vegas street lighting project was opened to public bid in late 2010 and allowed for all types of illumination technologies. GE was selected as one of five finalists to participate in a trial concluding in March 2011. The following month, GE was awarded the contract for an initial 6,600 LED fixtures to replace mercury vapor and high-pressure sodium (HPS) lights on streets throughout the city.
Las Vegas will launch the second phase of the project this spring, installing 35,000 additional GE Evolve LED fixtures over the next 12 months. Upon completion, more than 80 percent of Las Vegas' 50,000 streetlights will be powered by GE fixtures. This will remove more than 12,000 metric tons of carbon dioxide (CO2) from the city's atmosphere annually, equivalent to eliminating the CO2 emissions of more than 2,300 passenger cars or to planting more than 3,200 acres of trees.*
City of Superior, Nebraska
Like most municipalities, the City of Superior was looking for ways to save scarce tax dollars and keep utility rates down. One solution was a citywide streetlight replacement project, moving from HPS lights to LED. Superior received 13 bids and the city performed side-by-side testing of each lighting system for two weeks, measuring light output and energy usage relative to pricing. GE's Evolve LED Roadway fixture emerged the clear winner.
Contact
David Schuellerman
E-mail:david.schuellerman@ge.com
Web Site:www.gelightingsolutions.com