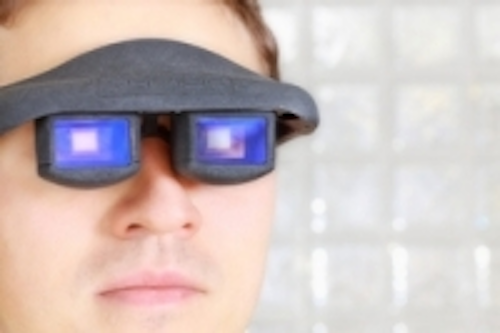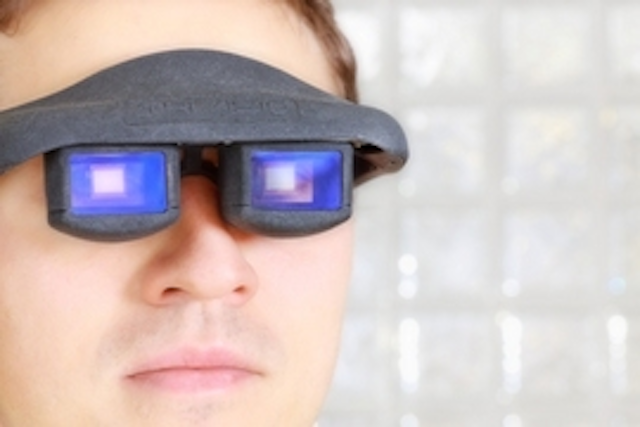 Date Announced: 11 May 2012
Fraunhofer IPMS -- COMEDD is active in R&D of OLED microdisplays for several years. Key applications are interactive see-through head-mounted displays (HMD) e.g. for data eye-glasses, based on IPMS/COMEDD's patented "bidirectional" OLED microdisplay technology. The device consists of an active OLED matrix and therein embedded photodetectors. HMDs are widely used in certain professional and academic markets. The main task of such a HMD is to combine the user's view to the real world with additional virtual information. An interactive see-through HMD provides a human computer interface with e.g. head-tracker, data-glove and eye-tracker to enable the user to interact with the virtually shown content. A big disadvantage of state-of-the-art see-through HMDs are the unhandy dimensions. Due to the accessory elements, at the moment interactive state-of-the-art see-through HMDs have significant dimensions and a restricted mobility.
Dr. Rigo Herold, responsible for the HMD system integration at the Fraunhofer IPMS, states: "The use of bidirectional OLED microdisplays removes all disadvantages of interactive state-of-the-art HMDs and enables the design of lightweight data eyeglasses".
Using such unique system the display is working as an actuator and influences the user by virtually projected images. The user interacts via his/her gaze e.g. focusing a virtual button. The embedded camera acts as sensor and captures the current image of the users gaze and a computer-system receives these images and calculates with an eye-tracking algorithm the point of gaze coordinates and provides these coordinates to the interactive application. The application processes the user interaction and generates a new virtual image. This virtual image will be transmitted to the display and virtually projected into the user's field of view. The system provides the human-computer-interface as a closed loop.
Examples of applications: A maintenance service worker is able to scroll between pages of a manual by using virtual back and next buttons, the virtual buttons are gaze-triggered, so the worker can use his hands to do maintenance tasks at the same time. Another usage scenario would be a user activating and responding to phone calls hands-free, e.g., to handle emergency calls.
The combination of several technologies e.g. OLED, CMOS and optics is the key to produce mobile, complex and energy saving interactive see-through HMDs for various markets. The ergonomic design improves user friendliness compared to state-of-the-art HMDs. Furthermore, using both, the right and the left optics, the conception of the presented system enables an advanced user interaction by 3D eye-tracking.
Fraunhofer IPMS – COMEDD presents at the SID 2012 for the first time ever an evaluation kit of this exciting technology, which enables the user to test the technology and develop application specific HMDs or data eyeglasses.
The evaluation kit provided by COMEDD consists of:
• Lightweight eyeglasses (collaboration with Trivisio
Prototyping GmbH, Trier, Germany)
• Binocular see-through optics with:
o Monochrome VGA display (full-color available soon)
o Special eyetracking-algorithm for HMDs based on bidirectional
microdisplays
Contact
Fraunhofer IPMS COMEDD Ines Schedwill Head of Marketing Maria-Reiche-Str. 2 01109 Dresden GERMANY Tel.: ++49 (0) 351/8823-238 Fax: ++49 (0) 351/8823-266
E-mail:Ines.Schedwill@ipms.fraunhofer.de
Web Site:www.ipms.fraunhofer.de