Elektronnyi Svet opts for energy-efficient long-lasting LEDs for the stadium in Kiev
May 9th, 2012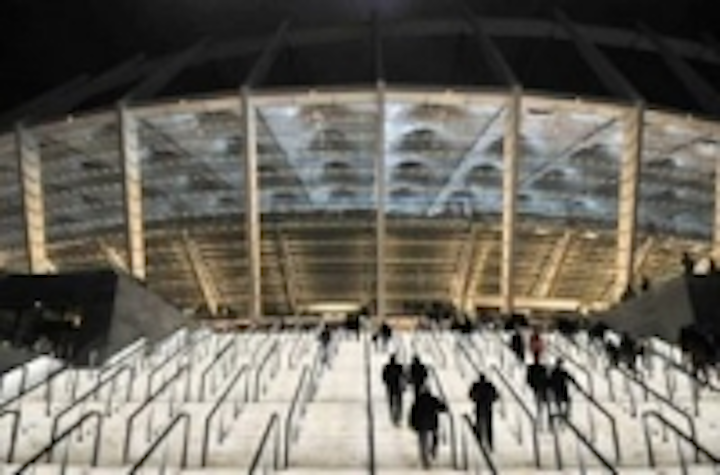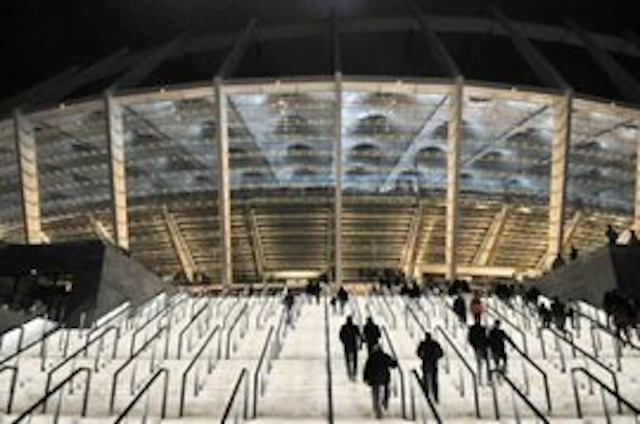 Date Announced: 09 May 2012
For the 2012 European Football Championships in the Olympic Stadium in Kiev, lighting specialist Elektronnyi Svet (Electronic Light Ltd) has chosen the latest LED technology from Osram Opto Semiconductors. New lighting systems have been installed and existing ones have been upgraded at the venue for the final of this year's European Football Championships. Elektronnyi Svet chose the powerful energy-efficient light emitting diodes from Osram Opto Semiconductors for the lighting for the steps behind the stadium and the decorative lighting in the bar area.
The final of the European Football Championships will be held in Kiev on July 1, 2012, and Golden Dragon Plus LEDs from Osram Opto Semiconductors are certain to be there. With their wide beam angle of 170° and their warm-white light they will make the steps leading up to the stadium much safer for fans. 1,350 LED modules with a total of 16,000 LEDs were installed in the handrails next to the steps – corresponding to a total length of approximately 1.5 kilometers.
Golden Dragon Plus LEDs will also be used in the bar area. Here, the main focus of the lighting plan was the decorative aspect. Four-color LED modules produce an eye-catching effect for the counters and ensure that the half-time interval is also a special experience. More than 3,000 modules with a total of 12,000 Golden Dragon Plus LEDs were used for the 14 different installations. The individually controllable LEDs in red, green, blue and cold white can generate any color combination. Protected by a robust package, the LEDs can withstand extreme conditions. Low energy consumption, and therefore economical permanent lighting, was a crucial factor in the decision to use LEDs.
A pioneering and prestigious project for the Ukraine
The use of such a large number of LEDs in the Kiev stadium makes this one of the largest projects in the whole of the Ukraine and clearly demonstrates the country's commitment to modern energy-efficient technology. Apart from the aesthetical aspects, the stadium authorities were also impressed by the particularly long lifetime of light emitting diodes and the resultant significant savings in service costs. LEDs save on space and can be easily integrated into the architecture to provide unsurpassed performance with defined radiation characteristics, offering bright and uniform illumination with no scattered light or glare.
According to Dieter Soukup, project manager at Osram Opto Semiconductors, "The LEDs are particularly suitable for outdoor use because their lifetime and radiated power increase as the temperature falls. As the steps are lit mainly in the evening and at night when temperatures are relatively cool, the LEDs can operate under ideal conditions." Andrey Lunev from Elektronnyi Svet added: "The high quality, excellent durability and impressive light output of the LEDs were the most important factors for us, which is why we chose this highly efficient lighting solution that is both reliable and economical. These factors also impressed the clients at the national sports complex."
Contact
OSRAM Opto Semiconductors
Web Site:www.osram-os.com