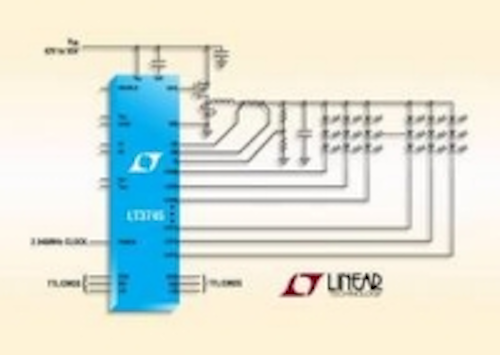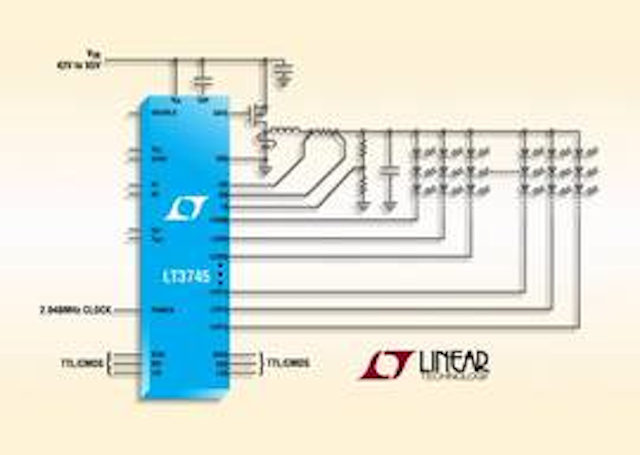 Date Announced: 29 May 2012
Linear Technology has announced the LT3745, a 16-channel LED driver integrated with a 55V step-down controller.
The LED driver powers up to 75mA of LED current for each channel, which can drive up to 36V of LEDs in series, making it ideal for applications such as large LED billboards.
Each channel has individual 6-bit dot correction current adjustment and 12-bit gray scale PWM dimming. Combined with a 0.5µs minimum LED on-time, the LT3745 offers very wide dynamic contrast ratios. Both dot correction and gray scale dimming are accessible via a serial interface in TTL/CMOS logic.
The LT3745's 6V to 55V input voltage range is well suited for a wide range of input sources found in commercial and industrial designs, typically between 12V and 48V.
The combination of minimal externals and a 6mm x 6mm QFN package provide a highly compact solution footprint for multichannel LED applications.
The LT3745's internal buck controller generates an adaptive bus voltage slightly higher than the parallel LED strings to deliver efficiencies over 90%.
Sixteen individual linear current sinks regulate and modulate individual LED strings, offering a wide range of functionality in a compact solution footprint. The LT3745 performs full diagnostics and protection against open/short LED and overtemperature faults, with the fault status sent via the serial data interface.
The 30MHz fully buffered, skew-balanced, cascadable serial interface makes the LT3745 ideal for large screen LCD dynamic backlighting as well as full color LED displays.
The LT3745EUJ is available in a 40-lead 6mm x 6mm QFN package, priced starting at $4.95 each, in 1,000-piece quantities.
The extended temperature version the LT3745IUJ, or I-grade, is also available, priced starting at $5.45 each in 1,000-piece quantities. All versions are available from stock.
For more information visit, www.linear.com/product/LT3745.
Summary of Features of the LT3745:
• 6V to 55V Power Input Voltage Range
• 16 Independent LED Outputs Up to 75mA/36V
• ±3% LED Current Matching at 50mA (TYP ±1%)
• 6-Bit Dot Correction Current Adjustment
• 12-Bit Grayscale PWM Dimming
• 0.5μs Minimum LED On-Time
• Adaptive LED Bus Voltage for High Efficiency
• Cascadable 30MHz Serial Data Interface
• Full Diagnostic & Protection: Individual Open/Short LED & Overtemperature Fault
• 40-Lead 6mm × 6mm QFN Package
• 16-Channel 50mA Buck LED Driver
Contact
UK, Ireland, South Africa and Israel: Alastair Boyd, Linear Technology (UK) Limited Tel: +44 (0)1628 477066 North America and General Information: Doug Dickinson, Linear Technology Corporation Tel: (408) 432 1900 ext. 2233
E-mail:uksales@linear.com
Web Site:www.linear.com