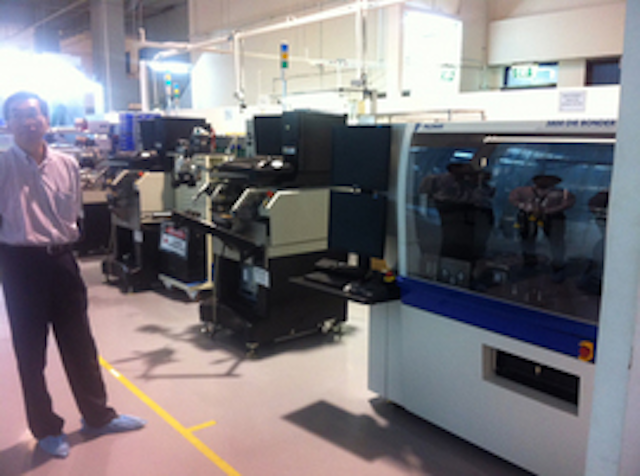 Date Announced: 29 May 2012
Carlsbad, CA – Palomar Technologies, the world-leading provider of precision microelectronics and optoelectronic packaging systems, today announced the successful expansion of the company's Singapore-based demonstration center and spare parts depot to better support its growing Asia-Pacific customer base.
With the growing installed base of 3800 Die Bonder customers and the long-standing presence of 8000 Wire Bonders across the APAC region, Palomar Technologies has successfully expanded the Palomar Asia Spare Parts Depot and regional customer services infrastructure. Mr. PH Chan, director of Palomar Technologies Asia, recently confirmed the Palomar Asia Spare Parts Depot will be able to meet requests for overnight spare parts delivery to regional APAC customers.
In addition to the expanded Palomar Asia Spare Parts Depot, Chan has also led the development of a Singapore-based demonstration laboratory in order to support increasing demand for in-person 8000 Wire Bonder and 3800 Die Bonder demonstrations with APAC customers. Providing customer-focused private bonder demonstrations has always been part of Palomar Technologies' niche identity. This unique one-on-one service is now available regionally to APAC companies.
"In 2010, Palomar Technologies launched the 3800 Die Bonder, designed for fully automatic, precision microelectronics assembly and die attach processes," states Chan. "The 3800 continues to be a success with our customers worldwide; however, the greatest need for the 3800 Die Bonder has proven to be within the emerging markets in Asia. The 3800 Die Bonder utilizes a large work area and various presentation tools for epoxy dispense and steady state and pulsed heat eutectic die attach—proving to be the most versatile, high-accuracy die bonder in the market for advanced microelectronics assemblies and complex hybrids."
The new Palomar Asia demonstration laboratory is outfitted with applications and process development capabilities for both wire bond and die attach. Expert Palomar Technologies Field Service Engineers and Technical Liaisons will continue to lead demonstrations.
Palomar Technologies Asia is accepting appointments for on-site wire bonder or die attach demonstrations. Schedule a demonstration appointment by contacting Palomar Technologies Asia at (+65) 6779-2766 or online at http://www.palomartechnologies.com/contact-palomar-technologies-asia.
About Palomar Technologies
Palomar Technologies, a former subsidiary of Hughes Aircraft, is the global leader of automated high-accuracy, large work area die attach and wire bond equipment and precision contract assembly services. Customers utilize the products, services and solutions from Palomar Technologies to meet their needs for optoelectronic packaging, complex hybrid assembly and micron-level component attachment. For more information, visit www.palomartechnologies.com.
Contact
Palomar Technologies Asia Contact PH Chan Director, Palomar Technologies Asia (+65) 6779-2766 Jessica Sylvester Marketing Communications, Palomar Technologies +1 760-931-3681
E-mail:jsylvester@bonders.com
Web Site:www.palomartechnologies.com