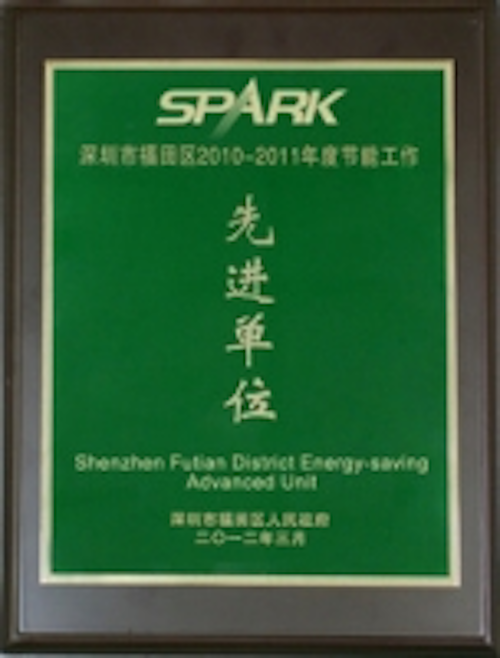 Date Announced: 29 May 2012
The reporter recently has learned from Futian municipality in Shenzhen that the final selection on the annual advanced units & individuals efforting to save the energy in this district was announced. Total 50 units, such as Shenzhen Spark Optoelectronics S&T Co., Shenzhen Power Supply Bureau Co., and Futian Power Supply Bureau Co., etc., were awarded as the energy-saving advanced units in Futian District from 2010 to 2011. G.M. Mr Wu Feng from Spike Optoelectronics S&T Co. was honored as an energy-saving advanced individual of the district.
According to the information, in order to set up a typical model role and encourage energy-saving advanced units and individuals to make greater contributions continuously in their professional field, Futian municipality especially had this selection activity.
Spark Optoelectronics S&T Co. as an enterprise, specialized in R&D, manufacturing the highly energy-saving LED lighting products, has been devoted to the new technology research in energy-saving and its application, and also actively promote the regulations in new energy management contract to build a green national lighting brand.
Meanwhile, Spark Co. makes a positive contribution in energy-saving, low carbon emission and sustainable development through the semiconductor lighting research and the application of high efficiency&energy-saving products. This successful selection as an energy-saving advanced unit can be identified as a recognition and affirmation from Futian municipality about our long-time research & development and our positive contribution in the highly efficient energy-saving products.
Through the interview, the reporter came to know that in recent years Spark Co. has not only been exploring its own technological advantages, but also been working actively to cooperate with some domestic and foreign universities and research institutes to promote the development of the solar energy, the wind&solor combined energy and LED lighting industry, by which a fruitful results have been achieved in terms of solar energy and LED lighting technologies and its applications. Beyond that, Spark's self-developed intellectual property patents are up to 100, a number of products has been awarded the honored of Shenzhen Science and Technology Achievement Appraisal, Guangdong & Shenzhen Self-innovated Products, Guangdong Key New Products, etc.
Based on the research in the key technology of LED lighting, solar energy and wind & solar combined LED lighting, Spark Optoelectronic Co. plays an important role in "a National Housing and Urban Construction of 2010 Project Plan", "Guangdong Major S&T projects in 2010", " 2011 Guangdong Provincial Research Projects", and " 2011 National Torch Plan" etc. The self-developed intelligent high-power LED street lamps by Spark Co. can save the energy up to 70%, so they have been named to be national demonstration products honored from three National Ministries.
In addition, Spark Optoelectronics S&T Co. has set up Shenzhen Municipal solar semiconductor lighting Laboratory (SLED) supported by Shenzhen Development and Reform Commission and Shenzhen Finance Committee, which provides strong support for the company's product development and industrialization of research findings and also ensures the high reliability and excellent performance of the product.
As a national enterprise carrying on the responsibility of energy-saving and environmental protection under the responsibility of "Energy-saving, Green First", Spark Optoelectronics S&T Co. adheres to its business philosophy of "quality, innovation, integrity and service", realizes the corporate mission of "illuminate the world and people's life" and focuses on guiding the direction of Chinese green energy-saving lighting industry. As a pioneer in promoting the development of LED lighting industry in China, Spark insists on taking the new energy exploration and urban energy management as the corporate sustainable development direction. What's more, Spark is committed to making a positive contribution to reduce the emission, save the energy and develop the low-carbon economy nationally and globally by effectively controlling the lighting energy consumption.
Contact
Keziah Song General Manager Tel: (86 755) 8390 4366 Fax: (86 755) 8390 4766
E-mail:sales@spark-oe.com
Web Site:www.spark-oe.com