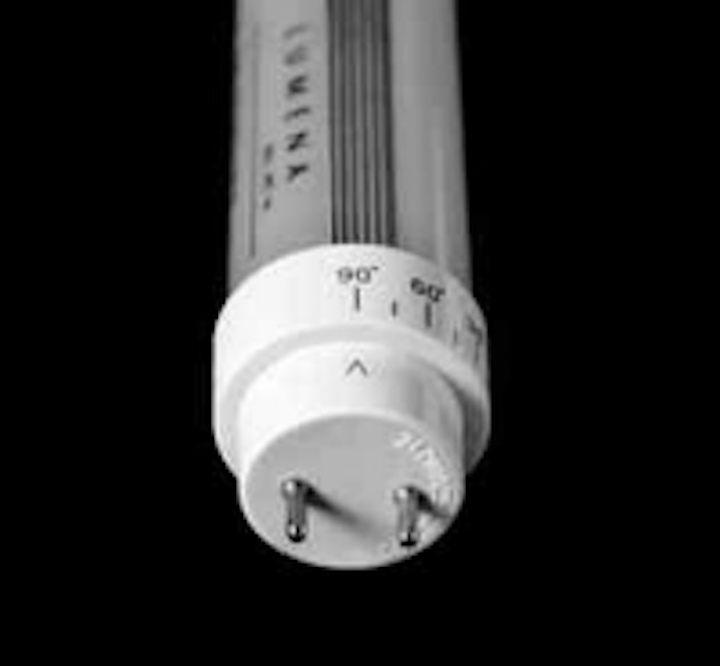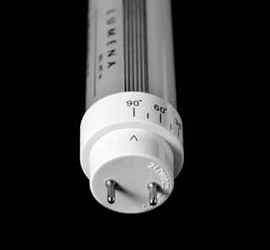 Date Announced: 18 Apr 2012
Minnetonka, MN – Representatives from Lumena SSL, Inc. announced today they have added 5', 6' and 8' T-8 linear lamps to the wide array of LED products now available worldwide from the Minnesota-based LED manufacturer. The LT-8 introduces rotatable ends to the linear models, significantly decreasing replacement time. Lumena's new linear lamps are also dimmable to 5% and produce a 180-degree beam angle. The LT-8 delivers the utmost in high quality, high efficiency LED linear lighting, using half the energy of similar, traditional lighting solutions.
"Like our other LED products, the Lumena T-8 represents the next evolution of LED linear lighting. We've designed each unique feature with the needs of our customers in mind. With Smart Driver, for example, our distributors don't have to waste time and money worrying about carrying multiple lights to accommodate different voltage ratings," said Jason Barbour, Chief Operating Officer for Lumena. Barbour added that each lamp is shipped with the correct tombstones, ensuring a more efficient installation.
The LT-8 provides a non-ballasted retrofit for an easy transition from traditional fluorescent lamps and is backed by Lumena's unparalleled warranty of 50,000 hours or five years. Both the LT8-600 and LT8-1200 come equipped with Smart Driver, a multi-volt driver that recognizes input of either 120v or 277v. The LT8 also features a dynamic thermal design that forces heat away from critical components.
"LED lighting represents a significant cost savings over traditional fluorescent and incandescent lamps, but until now most LED's have underperformed against traditional lighting solutions," said Loren Brink, CEO of Lumena SSL. "We've changed the landscape of the LED market by finally delivering on the promise of LED without sacrificing illumination or product durability. Our new T-8 is a great example of the perfect lighting solution for today's economy; significant energy savings, outstanding quality and brilliant, beautiful light."
The patent-pending Lumena T-8 will be introduced to more than 20,000 members of the lighting industry at the Upper Midwest Electrical Expo today in Minneapolis, Minnesota.
About Lumena SSL, Inc.: Lumena SSL, Inc. is committed to being the world's leader in the LED lighting industry, specializing in the manufacturing of LED lamp alternatives. Our vision and success is realized through innovation, cutting edge technology, eco-friendly products and strong relationships with our employees, partners, suppliers and most importantly, our customers. Lumena SSL corporate headquarters and showroom are located in Minnetonka, Minnesota with additional operations facilities in Denver, Colorado and Miami, Florida.
Contact
Bonnie Harris 612-801-0912
E-mail:info@lumena-ssl.com
Web Site:www.lumena-ssl.com