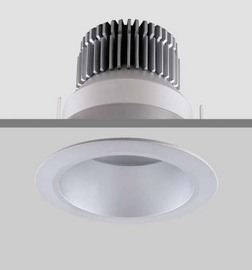 Date Announced: 07 Apr 2012
Ledoux, a market leader in design, development and manufacturing LED luminaires for architectural, industrial, indoor, outdoor and special purpose applications, is pleased to introduce the high power LED down light for general lighting purpose.
Through utilization of high quality PC diffuser with over 85% light transmission efficiency, the down light provide superior energy efficiency and beautiful contoured beam and then offer the best lighting solution to customers by:
1. Reducing power consumption up to 80%.
2. Long lifespan of 50000H at 70% lumen maintanence
3. Anti-dazzle design is achieved by 25 degree cut-off angle in order to create uniform and conformable lighting effect.
4. Application: General lighting in Store, Hotel, Restaurant, Exhibition Hall, Museum, Gallery and etc.
About Ledoux:
Ledoux Lighting Co., Ltd is an international high-tech enterprise specialized in R&D, manufacturing, marketing and application of high-end LED luminaries. Located in scenic Huizhou Zhongkai HIDZ-China National High-Tech Industrial Development Zone, Ledoux is the leading LED lighting company to enter national incubation base under strong support by Huizhou Zhongkai HIDZ.
Aiming to become the international pioneer in lighting industry at the opening of LED lighting era, Ledoux builds its competence by integration of multi-technology from fields of architecture, interior design, lighting application, light source technology, luminaries development and manufacturing. With an innovative team experiencing in semiconductor science and technology, thermology, electricity, mechanics, optics and aesthetics, Ledoux endeavors to define LED lighting products in creative design and LED lighting application on the basis of architectural physical requirement on luminaries and people's psychological requirement on lighting environment. Adopting a customer-driven approach and assessing the intrinsic essence of all products, Ledoux always develop products on focus on customer experience and practical application effect. Especially, Ledoux closely follow the international industry trend to develop innovative luminaries and also ensure each product owns its proprietary intellectual property right and unique lighting performance.
Ledoux always adheres to the operation concept of quality first and continuous improvement. All luminaries are up to European quality standard,and most products are approved by CE while some by TUV. Furthermore, our production system has passed the international certificate of GMC (TUV). Adhering to the principle of pursuing perfection and innovation, Ledoux always design products faithfully to the light source technology development and devote itself to providing high quality products and perfect service as your best partner.
Ledoux - Your Best Choice for LED Lighting Solutions!
Contact
Sammie Tel: +86 760 8755 3756 Fax: +86 760 8755 3757
E-mail:sales@ledouxlite.com
Web Site:www.ledouxlite.com