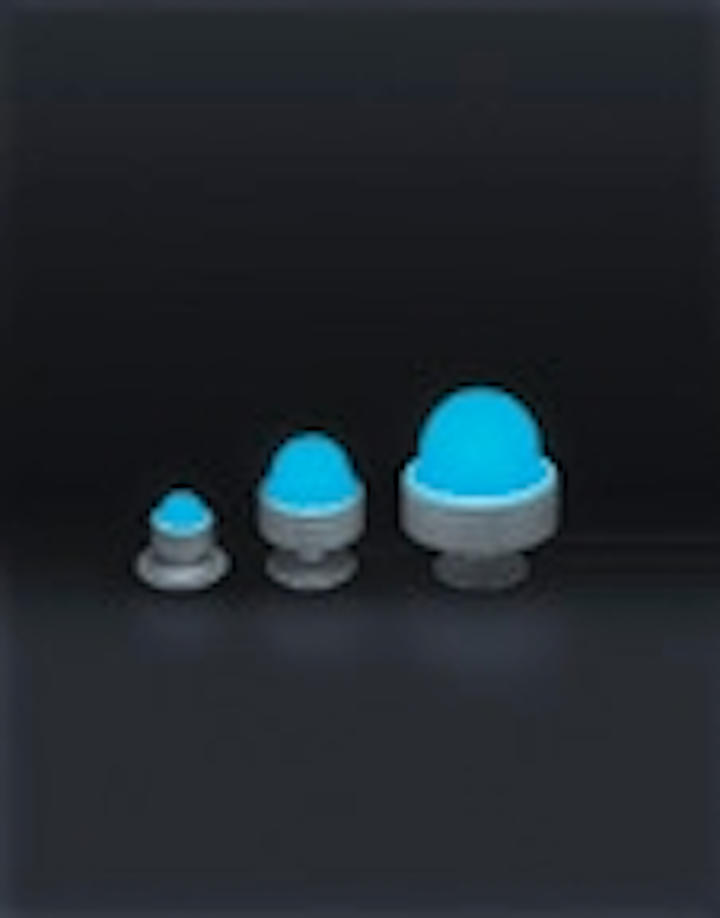 Date Announced: 19 Apr 2012
Montreal, QC - Lumenpulse Inc., a leading innovator and manufacturer of high performance, architectural LED-based lighting solutions for commercial, institutional, and urban environments, today announced the release and availability of Lumendome, a family of direct view luminaires for creative pixel-style applications. Lumendome pixels can be used as a graphical tool, to accentuate architecture, or be integrated into building facades to create low-resolution screens for displaying branded content and imagery.
The unique family of fixtures comprises 3 different sizes; the Nano, which is 2 inches (50.8 mm) in diameter, the Small, which has a diameter of 4 inches (101.6 mm), and the 6-inch (152.4 mm) Medium. Available in white (4 color temperatures; 2700K, 3000K, 3500K, and 4000K) and RGB color-changing versions, Lumendome luminaires feature a domed optic with a 240˚ viewing angle that enables pixel formations to be perceived from any angle.
A 48V DC input enables long runs – up to 370ft (112.8m) and 33 Lumendome Nano fixtures, 260ft (79.2m) and 16 Lumendome Small fixtures, or 220ft (67m) and 7 Lumendome Medium fixtures on a single output – while remote, replaceable drivers enable easier access and service.
The fixtures are made from architectural-grade materials for durability and utilize a dual chamber technology, which helps dissipate heat to create an L70 lifetime of 120,000 hours. All Lumenpulse products are backed up with a 5 year warranty covering the entire assembly.
"The Lumendome family will enable new ways to merge architecture and media, creating environments that communicate after dark," said François-Xavier Souvay, Founder, President and CEO of Lumenpulse. "Our solution will promote customized urban concepts which are easy to integrate. We have already seen Lumendome pixels play a prominent role on the Vancouver city skyline by helping to define the city's landmark Telus World of Science at night."
Lumendome fixtures have been installed to trace the outline of the Mount Royal Cross monument that overlooks the city of Montreal. And, at the Telus World of Science in Vancouver, 260 Lumendome fixtures provide points of light that make the structure legible after dark. The landmark museum now has the ability to change color to mark specific events throughout the year, turning green to mark Earth Day or blue to create awareness for World Autism Day.
More information about the Lumendome product family is available on the Lumenpulse website at www.lumenpulse.com/products.
About Lumenpulse Inc.
Founded in 2006, Lumenpulse develops and manufactures high performance, sustainable architectural LED-based fixtures and solutions for commercial, institutional, and urban environments. Attention to detail in mechanical, optical and fixture design has positioned Lumenpulse as a leader in the global LED lighting marketplace for indoor and outdoor uses. In addition to comprehensive product family offerings, Lumenpulse also specializes in the design, manufacturing and commissioning of large scale, customized, LED lighting solutions worldwide.
For more information, please visit www.lumenpulse.com.
Contact
Jason Broadhurst Lumenpulse Phone: 1-877-937-3003
E-mail:jbroadhurst@lumenpulse.com
Web Site:www.lumenpulse.com/products