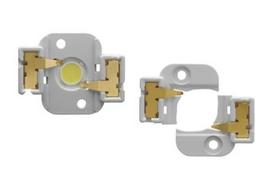 Date Announced: 26 Apr 2012
Walldorf, Germany – Molex Incorporated announced today that its new LED array holder will support Citizen Electronics' recently introduced Chip on Board (COB) series of arrays: CLL010, CLL020, CLL030, CLL040 and CLL050. Molex currently offers LED array holders for the Citizen CLL-330 and CLL340 LED array products, which provide unique compression contacts to power the arrays while eliminating the need for hand soldering or expensive Surface Mount Technology (SMT) equipment. Ideal for light fixture original equipment manufacturers (OEMs), the holders reduce installation time and increase connectivity options while lowering costs. The solderless screw-down connection allows for a standardised manufacturing process, adding to the design flexibility of the Citizen COB series of LEDs.
Molex LED array holders are ideal for all general illumination applications including downlighting, architectural lighting and area lighting. The thermoplastic housing supports high heat-generating environments and the holders comply with UL 496 specifications.
Molex LED array holders are available through Molex franchised distributors. The company anticipates parts will be available for both samples and high volume sales in spring 2012. For more information please visit www.molex.com/link/ledholdercitizen.html. To receive information on other Molex products and industry solutions, please sign up for our e-nouncement newsletter at www.molex.com/link/register/.
About Molex Incorporated
Providing more than connectors, Molex delivers complete interconnect solutions for a number of markets including data communications, telecommunications, consumer electronics, industrial, automotive, medical, military and lighting. Established in 1938, the company operates 40 manufacturing locations in 16 countries. The Molex website is www.molex.com. Follow us at www.twitter.com/molexconnectors watch our videos at www.youtube.com/molexconnectors, connect with us at www.facebook.com/molexconnectors and read our blog at www.connector.com.
Contact
Dulcie Elliot, Technical Publicity Mobile: +44 (0)791 2307170
E-mail:delliot@technical-group.com
Web Site:www.molex.com