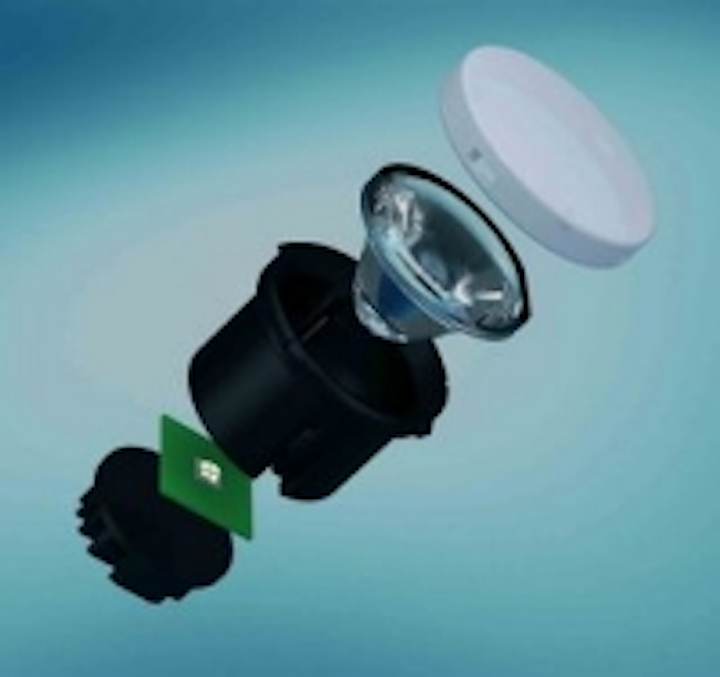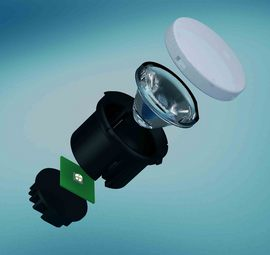 Date Announced: 02 Apr 2012
The concept module M-LEDlight illumination optics is based on a TIR collimator (Total Internal Reflection) as a base body and exchangeable facet designs for various beam properties. The company develops, simulates, tests and produces in house - the result is custom-made light engines for complex lighting solutions with targeted illumination. The light concept is being presented within the scope of the Light + Building in April 2012: hall 4.0 stand G20.
One of the biggest core competencies of the company is the virtual light development and product visualisation of customer specific LED lighting systems and lighting modules. After defining the lighting task (light strength, distance of the lamp to the illumination area, beam angle), the development classically starts with the selection of the correct LED's as a light source and the matching optical concept. A high efficiency and homogenous light distribution thus set the strict framework conditions for the optical design. After the technical light development, simulation and the various test procedures, Mentor finishes the process with its own tool construction, production and assembly.
The lighting modules with LED's and designs precisely coordinated to one another are used in the most varied applications: as attractive illumination for walls or building facades (wallwashers) or for spotlighting during the presentation of goods, on sales counters and as atmospheric lighting in meeting and conference rooms.
The first concept models of the M-LEDlight illumination optics will be presented to the public as part of Light + Building from 15th to 20th April 2012 in Frankfurt at the Mentor trade fair stand in hall 4.0 stand G20.
-----
As an internationally successful corporate group, MENTOR has been setting standards in the technical development and implementation of mechanical, electronic and optoelectronic components for diverse areas of application in industry for decades.
Since it was founded in 1920, the company has expanded continuously and is currently 100% family owned. With its head office in Erkrath, the MENTOR Group has subsidiaries in Germany, Tunisia, China, and Poland. In addition, the group of companies is currently represented internationally through its 20 agencies.
Quality assurance is guaranteed by means of an integrated management system and selected verification processes. All production plants and partner companies are certified and subject to regular audits. MENTOR itself is certified according to DIN EN ISO 9001, DIN EN ISO 14001 and ISO/TS 16949.
Contact
Eva-Maria Malzkorn, Marketing Consultant MENTOR GmbH & Co. Praezisions-Bauteile KG Otto-Hahn-Strasse 1 40699 Erkrath, Germany Tel.: +49-211-20002-203 Fax: +49-211-20002-41
E-mail:eva-maria.malzkorn@mentor-components.com
Web Site:www.mentor-components.com