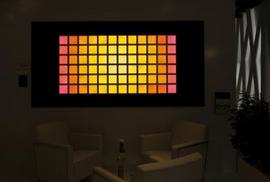 Date Announced: 20 Apr 2012
Eschborn, Germany - Light + Building 2012 (Hall 4.1, Stand C26) Verbatim has unveiled the world's first colour-tunable and dimmable OLED module that delivers brightness of up to 2,000 cd/m². The company's latest series of VELVE OLED modules are twice as bright as earlier devices.
Architects and interior designers can use OLED technology to create atmospheric lighting without hot spots, glare or uncomfortable intensity. At the show, Verbatim will demonstrate how its latest VELVE OLED modules can be used to create dynamic wall illuminations. The VELVE OLEDs are particularly suitable for creative use in stage lighting and novel applications in disco and bar environments, offering harmonious soft-light output, integrated calibration and an even distribution of light from panel-to-panel.
Verbatim will present a new set of compact off-the-shelf modules, although the company can also create custom-made OLED panel sizes. One option measures 131mm x 44mm and the second is only 65mm x 72mm, a quarter of the original size. Both variants have a depth of only 5mm.
The profile of the OLED modules in this series has been made smaller, thinner and lighter because its printed circuit board is no longer rear-mounted and is housed in an electronic control unit connected via cabling.
The latest series of colour-tunable VELVE OLED modules is ideal for mood lighting with each panel delivering red, green and blue (RGB) mixed colour with illuminance of 2000 candelas per square metre at a colour temperature of 3000K.
Those visiting Verbatim's stand will also be shown a class-leading set of high-performance halogen replacement LED spotlights. The company's dimmable PAR16 GU10 and MR16 GU5.3 lamps are ideally suited to accent-lighting or subtle background illumination in shops, museums, restaurants and hotels or to add sophistication in homes. Available in 6.5W and 9W ratings, the PAR16 GU10s have a high Colour Rendering Index (CRI) of 95 and a warm-white light colour temperature of 2700K. The company also plans to showcase a new AR111 that offers 850 lumens output and an adapted short-form factor to aid retrofit use in retail applications.
"Although Verbatim is renowned as a pioneer in data storage, the brand's roots in lighting go back over half a century. Backed by the expertise of Mitsubishi Chemical Corporation, the Verbatim portfolio of LED and OLED products is a technology that can always be relied upon to deliver class-leading performance, compatibility and quality," said Jeanine Chrobak-Kando, Business Development Manager, LED EUMEA, Verbatim.
About Verbatim Since 1969, Verbatim has been shaping the development of data storage technology - from Floppy Disks and Magneto-Optical storage media, CD and DVD formats to the latest High Definition media Blu-ray.
Moreover, Verbatim offers high quality products in the field of Portable USB Drives, Flash Memory Cards, SSD and External Hard Drives as well as a broad variety of computer Accessories. Verbatim is a subsidiary of Mitsubishi Kagaku Media, a member of the Mitsubishi Chemical Holdings Corporation group and benefits from the outstanding research and development department. With these innovations Verbatim has played a key role in shaping the storage media market. Ultra-strict quality controls during the manufacturing process ensure the high quality of Verbatim's products, which have been the winners of numerous international comparative tests. The company is the worldwide market leader for Optical Media. For more information, please visit http://www.verbatim.com.
Since 2010 Verbatim has been developing and selling energy-efficient LED/OLED lighting products for consumer and business applications, based on core technologies provided by Mitsubishi Chemical Corporation.
For more information, please visit http://www.verbatimlighting.com.
Contact
Nayl D'Souza Tel: +44 (0) 1225 470000
E-mail:nayl.dsouza@publitek.com
Web Site:www.verbatim.com