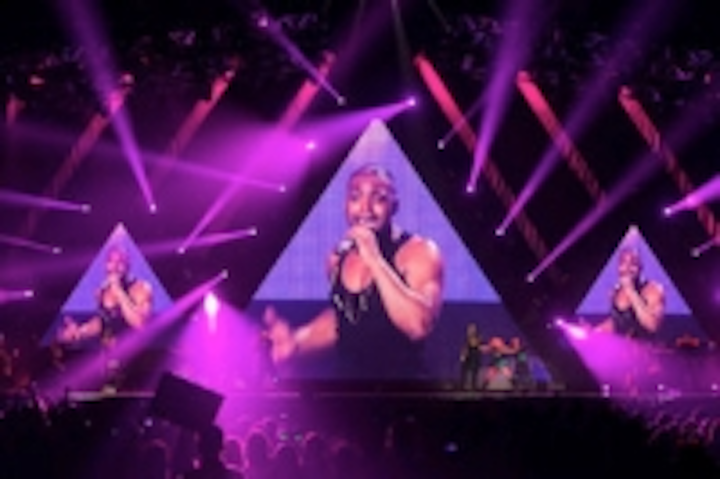 Date Announced: 18 Apr 2012
XL Video's Concert Touring division continues a busy spring by supplying Pixled F-11 LED screens and processing equipment to chart-topping, award winning and massively popular UK boyband, JLS.
XL is supplying the equipment to show producers Production North as part of the video package for the band's latest incendiary, sold-out UK arena tour, quickly gaining acclaim for its eye-catching aesthetics and entertainment and production values.
Co-ordinating the tour's video are Production North's Luke and Tom Levitt. XL Video's account handler is Jo Beirne with technical requirements handled by James Morden.
Says Luke Levitt, "We have worked with XL video for a long time – they are the biggest rental company specialising in live music video and are still the best! The technical support is second to none, and all the kit all came out of the warehouse in excellent condition as you would expect, all delivered to production rehearsals perfectly labelled and addressed".
Video is absolutely central to the JLS show and has a massive aesthetic impact.
The stunning playback visuals were conceived by JLS show director Beth Honan, and create dynamic digital scenery, backdrops and narrative references for the performance which is split into four 'dimensions' of dramatic space and time.
They are fed onto three triangular screens onstage. The central one is made up from 228 panels of Pixled F-11 and this is flanked by two smaller triangles, together comprising another 230 panels, so nearly 460 panels in total.
Lighting company HSL is supplying custom trusses that make up the triangular frames onto which the Pixled modules are clamped, which is still a time-consuming and technically challenging task involving some great interdepartmental teamwork between video, lighting and the four set carpenters.
The Pixled F-11 was specified by Honan and Production North's Steve Levitt, who worked on the tour's technical pre-production elements. The playback visuals were commissioned by Honan and produced by Blink TV under the supervision of Helen Haig.
In addition to the three Pixled screens, there are two side projection screens for IMAG, each fed by a Christie Roadster projector either front or back projected depending on the venue.
The IMAG mix directed by Luke Levitt is also output to the triangles at strategic points in the show.
There are four operated JVC HD cameras – one at FOH with a Fujinon x76 long lens, one positioned in the house left wing with a x72 lens and two in the pit on track-and-dolly with Canon J14 lenses - plus three GoPro HD Hero2 mini cams dotted around onstage – on the downstage edge of the main and B stages (just in front of the FOH mixer riser) and one for reverse shots on the upstage edge of the main stage.
Levitt cuts the mix on a Tricaster 850 Extreme switcher, and the system is engineered by Tom Levitt.
The video playback – programmed using Resolume Arena software - is triggered via timecode from the audio playback software QLab, running on two Mac Pros.
There are seven video crew in total including two screen techs who were recommended by XL.
XL's Jo Beirne says, "It's great to be working with Production North on one of the most exciting and high profile UK shows of the year so far. The bare stage approach really shows how well thought out, lively, fun visuals can bring a show to life!"
Contact
Louise Stickland +44 (0)1865 202679 +44 (0)7831 329888
E-mail:louise@loosplat.com
Web Site:www.xlvideo.tv