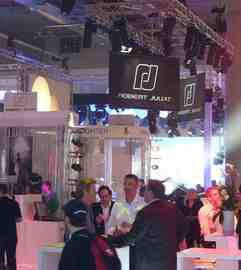 Date Announced: 10 Apr 2012
For the second year running, Robert Juliat's Prolight+Sound stand was almost entirely illuminated by LED fixtures, demonstrating how LED sources can simultaneously offer both cost and environmental benefits.
The stand centred on presenting previews of Robert Juliat's two new products, TIBO and ZEP LED profiles, which are due for release later this year.
TIBO and ZEP have evolved from the success of Robert Juliat's award-winning LED profile released at PLASA 2010. Both are the result of a redesigned light source, designed and built entirely in-house, which gives an improved CRI and higher light output.
ZEP is the same size and form factor as the 600SX range and offers a maximum output and a low power consumption. Its 150W LED source gives a light output equivalent to a 1000W tungsten profile. It will be available in two colour temperatures: Warm White 3200K and Cool White 6000K and offers three zoom ranges compatible with the current zoom ranges of the popular 600SX Series tungsten profiles: 28°-54°, 16°-35° and 11°-26°.
Intensity can be controlled either locally or via DMX and its flicker-free PSU is cooled silently by convection so eliminating noise contamination which is so important a consideration when working with cameras in television or film studios.
TIBO presents a truly-innovative design and offers a choice of multiple light sources. Its 75W LED source offers the same output as the 630 LED model but in a smaller, stylish unit. Its new optical device and die-cast aluminium body work have given rise to a design not possible with sheet metal and created a unit that is lighter and more compact than any others in the Robert Juliat range.
TIBO will be available in a choice of 3 colour temperatures: Warm White 3000K, Neutral White 4000K and Cool White (Daylight) 6500K to cover any application. It features an outstanding optical design that allows two different zoom ranges - from 15° to 45° - in one single unit.
Robert Juliat's superb beam quality and crisp gobo projection is retained with the addition of a continuous 360° rotation on lens tube.
Aimed at museums, churches and small schools, TIBO is a compact and custom-manufactured profile offering bespoke-coloured body works, making it a highly attractive product in technical, aesthetic and budgetary terms.
The stand demonstrated the effect of its profiles with a series of projected squares on the floor which illustrated the light output, colour temperature and beam quality - complete with sharp shutter cuts - of the 600 series 1K tungsten profile alongside the new 150W LED ZEP.
"We have had excellent responses to our new fixtures," says Robert Juliat CEO, François Juliat. "Customers are excited by the new design of TIBO!"
"We took the conscious decision to develop white-only LED sources in order to maximise the power output. By avoiding RGB colour mixing, the result is a high quality white light."
"We agree the new look is a good look – a bit different for us but still unmistakably an RJ product!"
For more information on Robert Juliat's range of lighting products, visit www.robertjuliat.com
Contact
Séverine Zucchiatti, Communications Manager Tel: +33 (0)3 44 26 51 89 Robert Juliat USA contact: Fred Lindauer Phone: + 1 203.294.0481
E-mail:communication@robertjuliat.fr
Web Site:www.robertjuliat.com