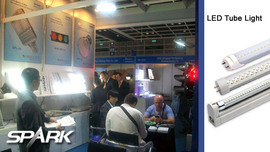 Date Announced: 24 Apr 2012
Shenzhen Spark Optoelectronics T&S Co., Ltd attended the Hong Kong Lighting Fair Spring 2012, hold at HK Convention and Exhibition Centre, organized by the HKTDC.
In addition to the traditional strength products such as LED street lights, LED tunnel lights, LED traffic light and other outdoor lighting, Spark grandly displayed some indoor lights like LED down light, LED tubes and LED panel light.
Spark LED down light adopts high brightness Philips Lumileds LED, with 107-120lm/W efficacy, with excellent color consistency and high light efficiency, beautiful appearance and excellent craftsmanship, steady growth in sale. Customer like it very much and can't help to take pictures.
LED tube light is Spark's tradition advantage products and mains products for most our exhibitions, with lead technology and craft in industry. Due to a lot of certifications, we have made some market share in many countries. Spark now arranges VED for LED tubes, with Nichia 3014 LED. UL will be also arranged after this. Customers are impressed to be told about this and showed great interest to talk with Spark sales about later co-operations.
Spark LED panel light use Epistar 3528 chip, with dimmable function, brightness is 30%-40% higher than other factory. Take 600*600 panel for example, Spark use 900pcs LED, with 4000lm test output, while others is around 3000lm.
The whole exhibition process, Spark booth is overcrowded, which fully shows Spark's strength. The great success of the HK exhibition make us more confident, we believe in that Spark will achieve better and more long-term development in LED industry!
Contact
Keziah Song General Manager Tel: (86 755) 8390 4366 Fax: (86 755) 8390 4766
E-mail:sales@spark-oe.com
Web Site:www.spark-oe.com