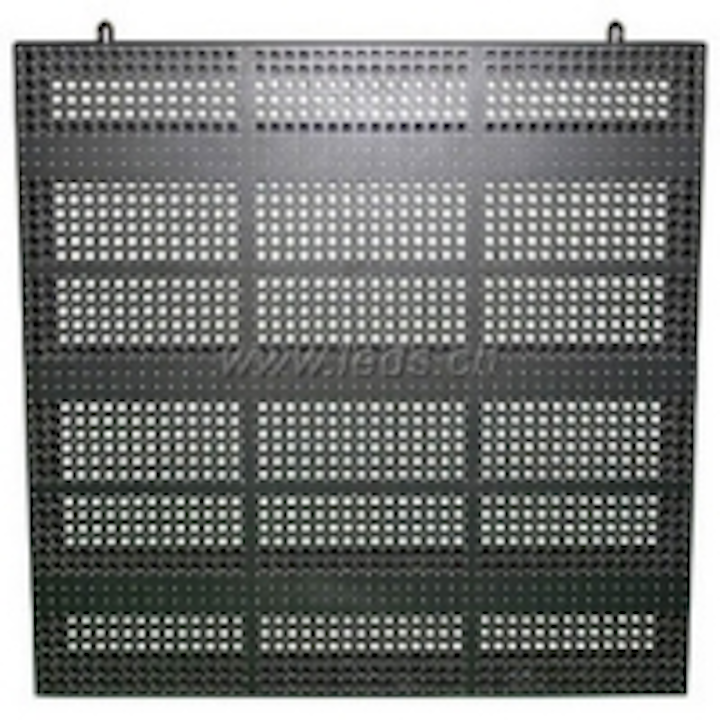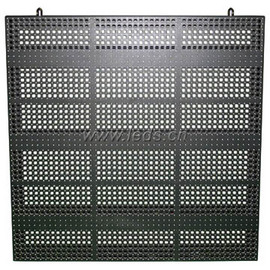 Date Announced: 16 Apr 2012
Product features:
1. Has a light-weight structure, which can facilitate installation and lower the display cost, and it is suitable for the indoor environments such as stages, bars, halls of hotels and luxury restaurants. It can be fixed on the glass wall of the buildings, which almost doesn't reduce the natural illumination owing to the mesh structure.
2. Convenient to play a variety of dynamic video programs. With various effects of lighting change, designed by our professional designers, our LED mesh display can show an endless charm of art.
3. Display panels can compose a full color display wall, controlled with real-time playing system. The pixels of the display wall correspond to those of the computer monitor. The grey level of 4096*4096*4096, along with gamma correction and white balance adjustment by software, makes the color of the display system more vivid.
Technical Parameter:
Resolution(W*H) (dots): 48 X 48
Size (W*H) (mm): 768 x 768 x 60
Pixel Configuration: SMD 3528 3 in 1
Net Weight (kg): 9.2 kg/ cabinet
LED Screen:
Pixel Pitch (mm): 16
Display Mode: Real pixel
Pixel Density (dots/m²): 3906
Brightness (cd/m²): >1500
Driving Mode: Scanning
Scan Mode: 1/4 Scan
Brightness Adjustment: 100 levels by software
Best Viewing Distance (m): 16~150m
Gray Scale (levels): 1024/Red/Blue/Green
Display Color: 1073741824 kinds
Frame Speed: ≥60(frame/sec)
Refresh Frequency (Hz): ≥400Hz
Max Power Consumption: 4650W/m²
Avg. Power Consumption: 150W/m²
Horizontal View Angle: 120°
Vertical View Angle: 120°
IP Grade: Indoor use
Video Input Format: Video S-terminal
Communicate method: CAT 5 twisted-pair cable
Communicate Distance: Less than 100m (no relay)
Operating Temperature: -20°C~+50°C
Operating Humidity: 10%-90%RH
Operating Voltage: DC5V± 0.3V
Input Voltage: 110V / 220V ± 10%
MTBF (hours): 10,000 hours
Life Span (hours): 100,000 hours
Sending card (Linsn): supports 1280(W)*1024(H)
Receiving Card (Linsn): Supports 320(W)*128(H)
Blind Spot Rate: ≤ 0.0001
Data Transmission Interface: DVI/Gigabit Ethernet/VGA
About LEDs Group
LEDs Group Co., Limited is a China-based company, which provides a full range of lighting solutions, including the design, manufacture, sales and marketing of high-quality LED and other lighting products for the household, commercial and outdoor lighting industries in China and internationally.
Contact
International Sales Dept. LEDs Group Co., Limited Tel: (86 20) 3988 4478, 8569 7198 Fax: (86 20) 6261 4200
E-mail:sales@china-leds.com
Web Site:www.leds-display.com