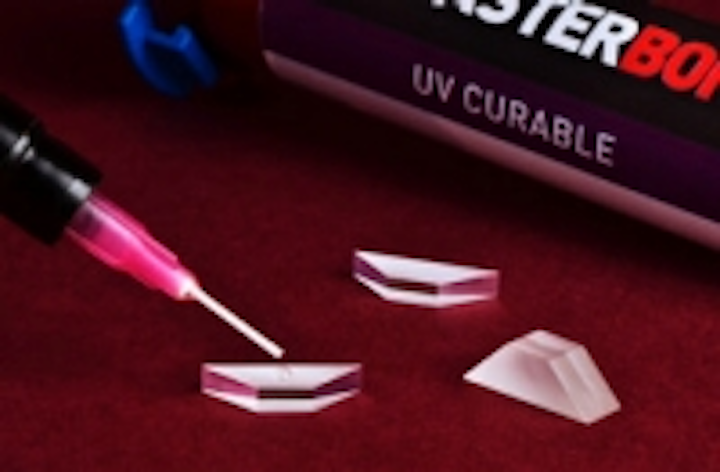 Date Announced: 05 Apr 2012
Developed for demanding bonding, coating, and sealing applications, Master Bond UV15-7 produces non-yellowing, tough and durable bonds. This one component adhesive is 100% reactive and doesn't contain any solvents or diluents. It offers excellent adhesion to a wide variety of substrates including glass, metals, ceramics and most plastics. Pacticularly noteworthy is its superior bond strength to polycarbonates and polyesther films.
Like many UV curable adhesives, UV15-7 offers fast cure rates, ranging from 5 seconds to 3 minutes upon exposure to a UV light source. Maximum UV absorption occurs in the 280 to 360 nanometer range using a 200 Watt/inch medium pressure, mercury vapor lamp. Unlike many UV curable products, UV15-7 is not inhibited by air and cures quickly at ambient temperatures, even in thickness up to 1/8 inch or more.
Serviceable over the wide range of -60 to +300°F, UV15-7 features a tensile strength exceeding 5,000 psi, a refractive index of 1.55 and a Shore D hardness over 70. Resistant to chemicals and thermal shock, it features a thermal expansion coefficient of 65-70x10-6. With a volume resistivity of 1014 ohm-cm, this low viscosity adhesive offers excellent electrical insulative properties.
Master Bond Optically Clear Adhesives
Master Bond UV15-7 is optically clear, non-yellowing and produces tough, high-performance bonds, seals and coatings for an array of substrates. Read more about Master Bond's optically clear adhesives at http://www.masterbond.com/properties/optically-clear-polymer-adhesives or contact Technical Support. Phone: +1-201-343-8983 Fax: +1-201-343-2132 Email: technical@masterbond.com.
Contact
James Brenner, Marketing Manager Tel: +1-201-343-8983 Fax: +1-201-343-2132 MASTER BOND INC. 154 Hobart Street Hackensack, NJ 07601-3922
E-mail:jbrenner@masterbond.com