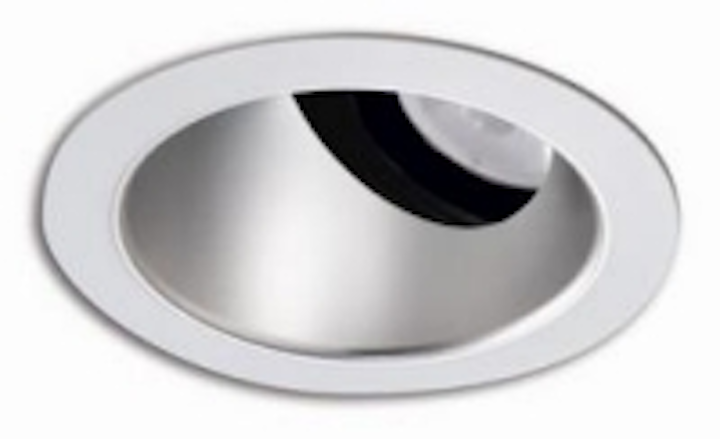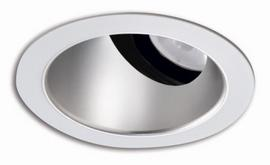 Date Announced: 24 Apr 2012
Fairfield, NJ – Providing the same unparalleled performance and architectural elements that lighting professionals enjoyed with the original Evoke family, Amerlux debuts high-performance, energy saving Evoke 2.9 G2 LED Downlights in round and square profiles for a sleek, contemporary inconspicuous appearance. A leading provider of task-specific, energy-efficient lighting solutions, Amerlux offers Evoke 2.9 G2 LED Downlights for inclusion in sustainable strategies recognized by organizations such as LEED (Leadership in Energy and Environmental Design) and The U.S Green Building Council. The new generation offers an array of compact, architecturally styled luminaires for a wide variety of applications.
"The second generation of Evoke 2.9 Downlights is the result of many years of research and development combining LED energy efficiencies and cost savings without compromising appearance or performance," said Frank P. Diassi, Chairman and Founder of Amerlux. "The family is ideal for upscale residential, retail and a variety of commercial applications in North America and on a global scale as well."
Specifically engineered around the latest LED light sources, the 12-watt Evoke combines uncompromising energy efficiency and superior aesthetics with a miniature 2.9-inch aperture. Evoke offers architects and lighting designers the flexibility to create complete sustainable lighting schemes including general, accent, task and wall washing applications.
"Harnessing the power of LED, Evoke luminaires combine the robust features, fit, finish and details with the latest sustainable lighting technology," explained Chuck Campagna, CEO and President of Amerlux. "Engineered using the highest quality world-class diodes and ceramic circuit boards, Evoke delivers superior efficacy, light output and lamp life."
The family offers warm 2700K, crisp 3000K, bright white 3500K and cooler 4000K LED sources that can be used in highly switched areas or applications requiring dimming capabilities. Consuming just 12 watts, Evoke LED is capable of producing over 670 net lumens of uniformed light in 15- to 60-degree beam spreads. Tightly binned LEDs ensure excellent fixture- to-fixture consistency and a superb CRI (color rendering index) of 82 to 90.
To maximize their rated life, Evoke 2.9 G2 LED Downlights combine conduction, convection and radiation elements to divert damaging heat away from the LEDs with a multi-faceted thermal management system. A patented ceramic circuit board ensures that the LEDs are driven to their optimal performance while the highly engineered heat sink conducts heat away from the diodes above the ceiling line. This unique combination provides additional thermal protection, allowing for a tight cluster of high output LEDs to be used in this discreet aperture size. The result is a long lasting fixture capable of significantly reducing operation costs by maximizing energy efficiency and minimizing maintenance.
The patented heat sink reduces fixture temperature for an unparalleled LED rated lamp life of 50,000 hours at 70 percent initial output. The compact LED module produces over 670 net lumens of light while consuming just 12 watts of energy. A unique slide mechanism offers easy access to the LED driver to simplify inspection and maintenance. The luminaire boasts a precise beam spread range from 15- to 60-degrees that makes it ideal for lobbies, conference rooms, private offices and elevator banks.
Evoke 2.9 G2 LED Downlights are designed with a reflector trim that sits flush with the ceiling line, for a minimal edge detail. A trimless fixture is also available with a perforated plaster ring that mounts to the aperture for the application of drywall compound, which is applied directly to the plaster ring and feathered away for an even cleaner installation and look. High performance lighting applications are effectively achieved from above a smooth, uninterrupted surface, for a clean, unobtrusive aesthetic.
Evoke delivers clean consistent beams free of projected heat and UV/IR radiation, making it optimal for lighting color or heat sensitive merchandise. With full range dimmability and specialized optics, the luminaires are offered in the round, square, round glass and square glass decorative styles.
Reflector Trims are available with white painted flange offered in a square style in Matte Black or Matte White finishes, or in a round style in Semi-Diffused Clear, Specular Black or Matte White finishes. Reflectors Trims are also available with a clear flange offered in a round style in Semi-Diffused Clear or Specular Black finishes. The Flush Trimless is offered in the square style in Matte Black or Matte White, while the round style is offered in Semi-Diffused Clear or Specular Black. Custom color options include over 200 durable powder coat painted finishes from the extensive Amerlux palette, to complement nearly any design scheme.
Evoke 2.9 G2 LED adjustable fixtures feature a unique CAM adjustment mechanism that maximizes aiming flexibility while keeping the housing's recessed depth to less than six inches for tighter plenums.
In addition to Evoke 2.9 G2 Downlights with LEDs, the family is also available with miniature ceramic metal halide and low voltage halogen light sources.
Evoke 2.9" LED Downlights are backed by an unprecedented 10-year warranty.
Evoke 2.9" LED Downlights are CSA, UL, CE and CCC listed. LM79 and LM80 reports are available upon request, as well as IES reports.
About Amerlux LLC
Amerlux speaks the language of light for design and construction professionals around the world by manufacturing a broad array of optically superior, energy efficient lighting solutions for the retail, supermarket, hospitality, commercial and outdoor lighting markets. The company has set the standard for clean design, dependable service and superior performance that results in a more compelling and effective visual environment. Amerlux products and services include track lighting, recessed downlighting and multiples, pendants, linear fluorescents, and custom lighting systems, as well as support for energy reduction plans that can be used as a guide to state, city and local utility rebate programs for maximum energy savings and utility incentives. The company's domestic and international clients receive the support of Amerlux's highly trained specification sales force, as well as expert service from initial design to on-time delivery made possible by strategically located manufacturing, warehousing and shipping locations.
Contact
AMERLUX 23 Daniel Road East Fairfield, NJ 07004 T: 973.882.5010 F: 973.882.2605
E-mail:mail@amerlux.com
Web Site:www.amerlux.com