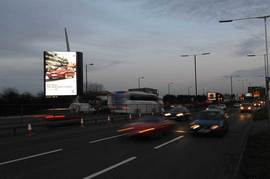 Date Announced: 13 Apr 2012
UK – One of the latest offering from specialist outdoor media owner, Outdoor Plus, is The Spire, a 20m high structure located on London's A40 Western Avenue. Lighthouse Technologies LED screens were chosen for this iconic structure, which launched with campaigns for Nike and BMW.
Installed by turnkey solutions provider, Solutions In Steel, the new structure replaces six conventional advertising light boxes. Whilst the base of the structure measures just 2m2, the screen itself comprises two screens, each comprising 8 x 8 panels (6.14m wide x 9.22m high) of Lighthouse Impact 12 LED screen.
"As with all our projects, The Spire was manufactured off site and installed in one piece to minimize disruption to traffic on this busy London artery," explains Solutions In Steel's Simon Grice. "The screens were transported to site in two pieces before being crane lifted and installed by our specialist construction crew in just three days."
Impact 12 is ideally suited to this type of application, where ease and speed of installation are vital, as it features a larger than usual panel size. Impact 12 is IP65 rated and offers both front and rear access and an easy release IM structure for simple maintenance and is Lighthouse's first outdoor SMD LED chip.
The screens are visible to traffic travelling in either direction along the A40, offering advertisers access to a dedicated commuter and business audience.
"This is the latest in a series of digital signage projects that we have sited on premium arterial routes within the capital," says Grant Branfoot, sales director for Outdoor Plus. "We attract high-end advertisers who are aiming at affluent audiences. The technology we use has to reflect that and Lighthouse's Impact 12 proved the right choice once again."
"This is the latest in a series of roadside advertising installations that feature Lighthouse screens," says Lighthouse's UK general manager Simon Taylor. "We're delighted that our products are proving to be so popular in such high profile projects."
~END~
Lighthouse Technologies Limited is a global leader in LED display technology that develops, manufactures, and markets LED video display solutions for multiple indoor & outdoor applications, media and entertainment events, and sports arenas across the globe. With numerous technological breakthroughs to its name, Lighthouse has established itself as a multi award-winning leader in the LED display industry that holds itself to the highest standards of quality.
Founded in 1998 Lighthouse has a strong global presence with regional offices in Europe, North and South America, the Asia Pacific and China. Employing the most advanced technology, the highest quality manufacturing facilities, and world-class, round-the-clock technical support, Lighthouse satisfies customers on every major continent, captivating the imagination of millions. For more information about Lighthouse, please visit
Contact
Sarah James sarahj@gasolinemedia.com
E-mail:info@lighthouse-tech.com
Web Site:www.lighthouse-tech.com