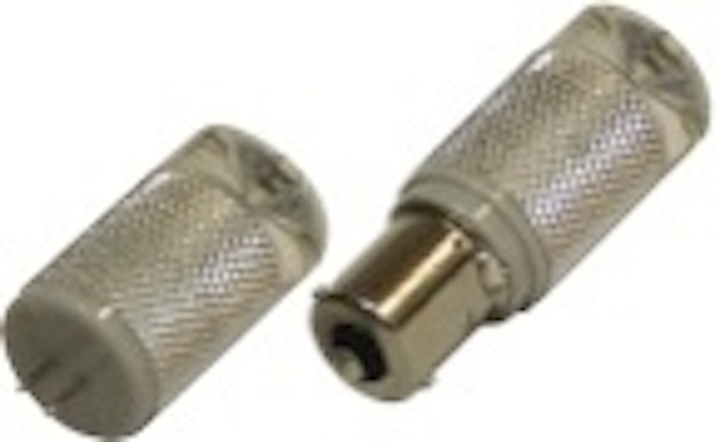 Date Announced: 24 Apr 2012
Norcross, GA – Halco Lighting Technologies® announces new ProLED® JC Lamps that are IP65 rated for outdoor use and pair perfectly with a variety of Sollos Landscape Lighting® fixtures.
With an IP65 rating, Halco ProLED JC lamps are ideal for applications where there is potential for exposure to water. ProLED JC lamps feature omnidirectional, 3000K Warm White light distribution and are available with a G4 base in both 1.5W and 2.5W. A BA15s base is also available in 2.5W. In addition to the reduced maintenance costs and the attractive light they produce, ProLED JC lamps provide significant energy savings over Halogen equivalents. These lamps offer a long life of 40,000 hours and are backed with a 5-year warranty.
These ProLED JC lamps offer compatibility for an array of landscape fixtures. We recommend them for use in Sollos Step/Brick, Flood Lights and Path Lights. Sollos Path Light fixtures, the most common landscape installation, are available in 4", 5.5", 7.5" and 9" hats in Textured Black, Textured Bronze, Antique Brass, Brass, Copper and Stainless Steel finishes. For more information on our Sollos fixture line, visit www.solloslighting.com or call 888.976.5567 to speak to a Sollos Representative.
About Halco Lighting Technologies®
Halco Lighting Technologies® is a leading manufacturer of lamps and ballasts designed for industrial/commercial, residential and specialty lighting applications. Halco's extensive product line includes the following brands: Halco®, Sollos®, ProLED®, ProLume®, HaloXen®, Prism®, ProFormance®, Eco-Shield®, CoverShield® and SureColor®. Established in 1974, the company has U.S. distribution centers in Atlanta, Cleveland, Houston and Phoenix. For more information, visit www.halcolighting.com.
Contact
Sarah Kulesza Marketing Associate Halco Lighting Technologies (800) 677-3334
E-mail:skulesza@halcolighting.com
Web Site:www.halcolighting.com