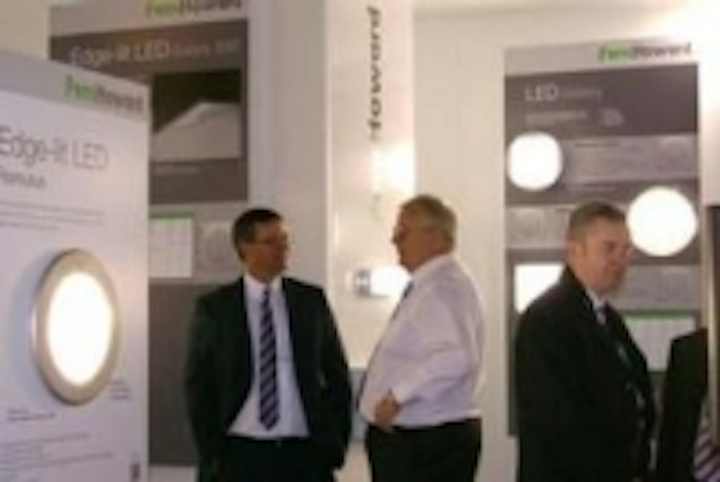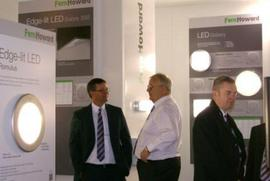 Date Announced: 27 Apr 2012
LED lighting was present at almost every stand at the show, but none like this. Highly energy efficient yet with a pleasing and uniform level of light, the new edge-lit LED luminaires shown at the Fern-Howard stand deliver all the advantages LED has always promised.
"The feedback we received from lighting professionals visiting our stand was better than we could have wished for. The efficiency and uniformity we were able to demonstrate with our new range was extremely well received; numerous representatives of Europe's leading professional lighting companies recognised the benefits and technical advantages of the micro-controlled lenses used in the
Rambus system
when compared with other types of LED edge-lit and back-lit solutions," said Peter Scott, Group CEO of Fern-Howard.
Edge-lit light fittings with MicroLens® optics, which place LEDs along one or more edges of a light guide, offer high optical efficiency, control of light distribution, reduced number of LEDs and superior aesthetics – all in one. Combined with TruEdge(TM) LED Coupling technology, which maximises the amount of light injected into the light guide, the new system provides a level of lighting control that is impossible to achieve with other LED solutions. The result is highly energy efficient luminaires that use the fewest number of LEDs to provide the right amount of light just where it is wanted.
Fern-Howard have been recognised for leading the way when it comes to innovative and energy-efficient light fittings. The introduction of this ground-breaking LED edge-lit technology is the much sought-after link between conventional area lighting fixtures and wide-scale LED adoption.
About Fern-Howard Ltd.
Based in Alton, Hampshire, Fern-Howard has been a market-leading manufacturer of energy efficient, high quality and reliable luminaires for 25 years. With a range known for functional and stylish designs, Fern Howard products have an enviable reputation among users, specifiers and installers.
We manufacture over 500,000 fittings every year at our state of-the-art UK factory, making everything from vandal proof designs to self-testing and DALI control units. Much of our success is due to our capacity to innovate in a rapidly changing market – an ability that has led both to our Time-in-a-Box packaging for quick and easy installation, and now to our ground-breaking LED edge-lit technology.
Contact
Elke Hahmann Marketing Manager Fern-Howard Ltd. +44 (0) 1420 470 400
E-mail:elke.hahmann@fernoward.com
Web Site:www.fernhoward.com