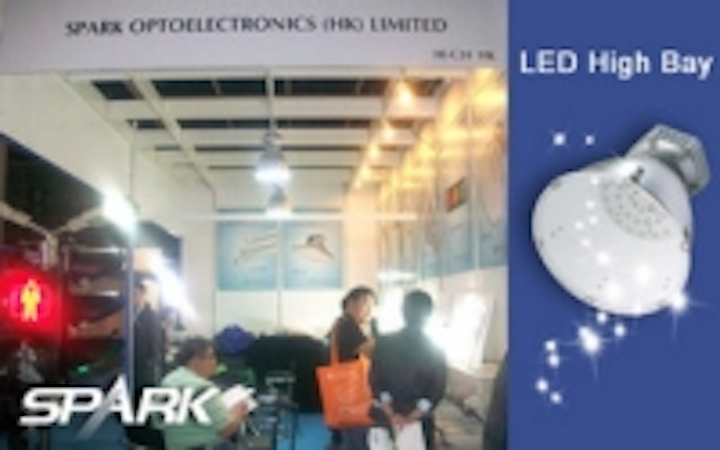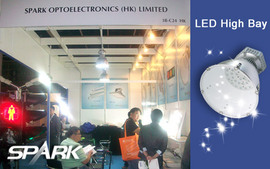 Date Announced: 17 Apr 2012
During 6th, Apr. To 9th, Apr. 2012, the yearly Hong Kong international lighting (spring audition) fair was hold as scheduled.
On the exhibition, our Spark Company exhibited many products: led street light, led tunnel light, led traffic light, and led lawn light as our outdoor lighting products. Led high bay, led down light, led panel light and LED tube light as our indoor lighting products. During the fair, our led high bay is the most popular product, because of the special design: novel and elegant appearance, good heat dissipation and high efficiency, attracts many customers' interesting.
Our high bay is different from other manufacturer' s; it is very easy to see the different from the appearance and structure. In addition, our high bay has been adopted with top brand components on the driver and lighting source. The lighting source is original Cree XPE or XM-L LED or Philips lumileds LED. The power supply is made with Rubycon capacitor & National Semiconductor IC. The efficiency is very high, reach 80lm/w for our 100watt high bay when adopt Cree XM-L LED, because the luminous flux reach 8300lm while the total power consumption just at 100watt. The temperature is just about 55-60 degree on the luminaire body, very high lumen maintenance with the low temperature. And our special reflector adopted nano material coating, ensuring high reflection & luminance uniformity. One of our customers Mr. Nielsen tells us in HK lighting fair that the lighting effect is very good, very soft, comfortable, no shadow compared to other vendors.
After this show, we accepted many customers who met on this exhibition at our factory. On the factory tour, most of customer was amazed by our scale, production & testing machine and big show room. Some of them told us that this is their first time to view such nice showroom, because it' s reflecting the lamp application vividly.
Would you like to be the next customer to visit our company, give us a email or call and make a appointment, then you will be the person who can lead LED lighting field in your market. Take action now, you are welcome to Spark.
Contact
Keziah Song General Manager Tel: (86 755) 8390 4366 Fax: (86 755) 8390 4766
E-mail:sales@spark-oe.com
Web Site:www.spark-oe.com