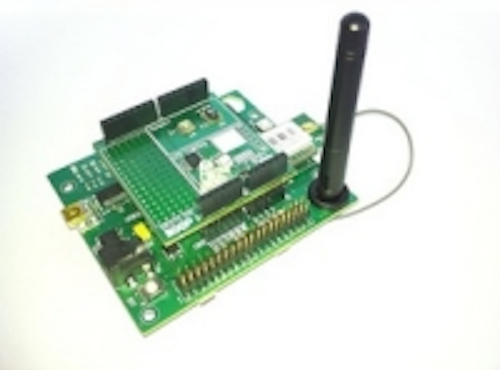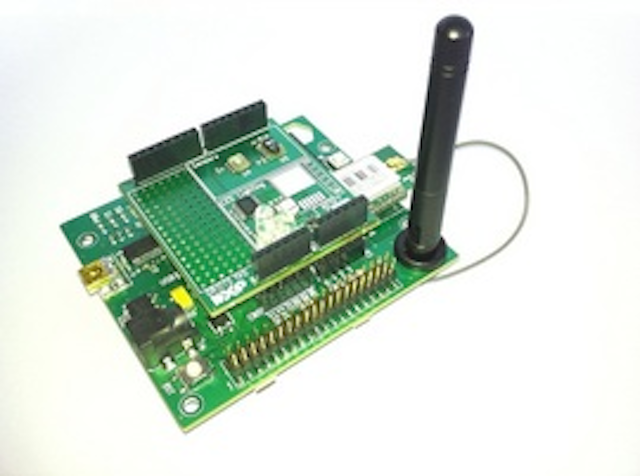 Date Announced: 12 Jul 2012
NXP Semiconductors N.V. (NASDAQ: NXPI) today announced the availability of evaluation kits featuring JenNet-IP™ wireless network layer software for the Internet of Things. The JenNet-IP-EK040 evaluation kit provides all the components needed to create applications for IPv6-based networks for lighting and home automation, based on NXP's JN514x series of ultra-low-power single-chip wireless microcontrollers. In addition, NXP is launching a certification program for JenNet-IP. The certification program will make provision for testing end products to ensure performance and interoperability between all devices bearing the JenNet-IP name and logo.
The JenNet-IP evaluation kit includes 4 wireless sensor nodes; 4 plug-in "shields"; 2 high-power modules; 2 high-power USB dongles; a router; a remote control; and a software development kit. Based on the IEEE 802.15.4 standard, JenNet-IP software comprises the self-healing JenNet tree networking stack; the IETF 6LoWPAN IP layer; and JIP, a powerful and flexible application layer enabling interoperability between devices.
With JenNet-IP, up to 500 devices in the home can each have their own unique IPv6 address, turning the home into an extension of the Internet at a very low cost. Lights and other home appliances can be easily connected, monitored and controlled over the Internet. For example, GreenWave Reality's Connected Lighting solution using JenNet-IP allows for the intelligent management and control of lighting without touching any wiring or switches in the home. The GreenWave Reality solution enables consumers to dim and turn lights on or off with their hand-held remote or through the use of smart controls, such as "Night", to turn off all the lights from your smart phone. Internet-enabled smart lighting alone could reduce power consumption by 30 percent, by dimming and turning off lights when they aren't required.
JenNet-IP evaluation kits are available for US $1,400 at selected distributors, and a "first look" at the new eval kit is available here: http://www.youtube.com/watch?v=bFTjVcr1CDI
The JenNet-IP-EK040 evaluation kit includes the following items:
• Four wireless sensor nodes, including modules based on JN5148-J01 and JN5142-J01 chips; USB micro-B connectors; a JN514x IO expansion port; support for USB, battery or an external power supply unit (not included); and two USB cables
• Four plug-in shields with an Arduino-compatible footprint featuring 3 dimmable bright white LEDs; temperature, light level and humidity sensors
• Two high-power JN5148-J01 modules for extended range
• Two high-power USB dongles for sniffer and coordinator
• A router providing connection to Ethernet, with Custom Open WRT software and power supply
• A capacitive touch remote control
• A free and unlimited Eclipse based software development kit including the Eclipse IDE, Flash memory programmer; microcontroller and peripheral libraries; and the JenNet-IP library
"Smart lighting is a reality today. The availability of Internet-enabled, efficient light bulbs with GreenWave Reality's innovative smart lighting solution allows consumers to save significant money on their energy bill while increasing the comfort of the home. Our smart lighting solution utilizes JenNet-IP technology to provide an industry-leading experience for our customers," said Greg Memo, CEO at GreenWave Reality.
"Over the last year, JenNet-IP has emerged as an important standard for wireless home automation systems. With the introduction of this evaluation kit, we'll be able to reach an even broader community of developers and make it easier to incorporate JenNet-IP into wireless network designs, particularly in smart lighting and smart home applications. The new JenNet-IP certification program also assures vendors and consumers of seamless interoperability between JenNet-IP-enabled devices – a critical factor as we work together to build a true Internet of Things," said Sean McGrath, general manager, smart home and energy product line, NXP Semiconductors.
Links
VIDEO: What's inside the JenNet-IP eval kit: http://youtu.be/bFTjVcr1CDI
JenNet-IP-EK040 evaluation kit: http://www.nxp.com/demoboard/JENNET-IP-EK040.html
JenNet-IP wireless networking for the Internet of Things: http://www.nxp.com/jennic/products/protocol_stacks/jennet-ip
About NXP Semiconductors
NXP Semiconductors N.V. (NASDAQ: NXPI) provides High Performance Mixed Signal and Standard Product solutions that leverage its leading RF, Analog, Power Management, Interface, Security and Digital Processing expertise. These innovations are used in a wide range of automotive, identification, wireless infrastructure, lighting, industrial, mobile, consumer and computing applications. A global semiconductor company with operations in more than 25 countries, NXP posted revenue of $4.2 billion in 2011. Additional information can be found by visiting www.nxp.com.
Contact
Global: Eureka Endo +44 795 828 7483
E-mail:eureka.endo@nxp.com
Web Site:www.nxp.com