Chauvet colors Kauffman Center for MLB 2012
Jul 26th, 2012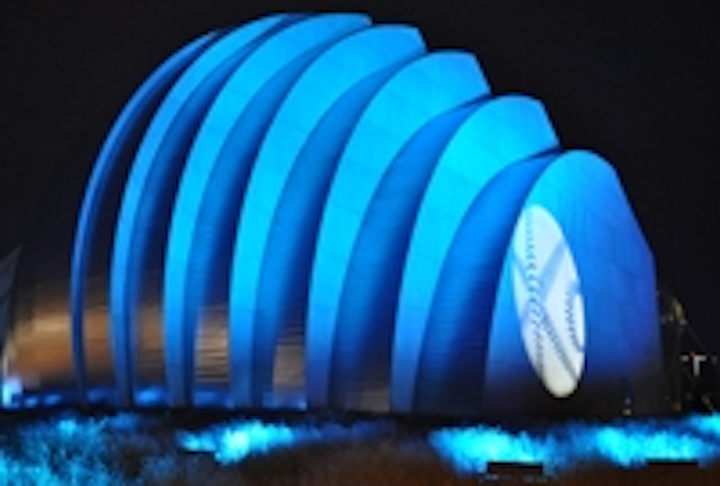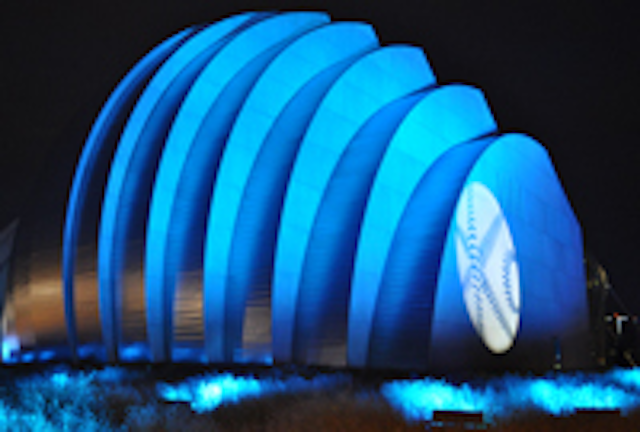 Date Announced: 26 Jul 2012
Kansas City, MO – To celebrate the MLB All-Star Game held at Kansas City's Kauffman Stadium, the Kansas City Convention & Visitors Association created a marketing campaign for the city's "FanatiKCs". Part of the campaign included washing the Kaufmann Center for the Performing Arts in Kansas City Royals blue. To do so, placed on either end of the distinctly designed center, were 12 CHAUVET® Professional COLORado™ Range IP building washers. Additionally, a custom gobo of a baseball, produced by Apollo Design Technology, danced across the blue backdrop projected by a Robert Juliat D'Artagnan 900SNX, a MSR 2500W profile fixture.
Kansas City-based XS Lighting temporarily installed the fixtures for the lighting event, which also featured the World War I Liberty Memorial—uplit with traditional incandescent lights and colored gels.
"This is the first time we have approached lighting a building of this size with LEDs," said Rick McConnell of XS Lighting. "I was more than pleasantly surprised by the coverage we got from the COLORado™ Range IP fixtures." The stainless steel sides of the Kaufmann provided a sleek projection surface for the blue wash, while the LED-fitted COLORado™ Range IP provided an energy efficient way to light the structure.
"Lighting the WWI Liberty Memorial, in a saturated color is a challenge due to its height of 217 feet. It was accomplished with more conventional and much less energy efficient fixtures," said McConnell. "With the Kauffman Center, my goal was to light it effectively while minimizing our carbon footprint for the project. In other words, lighting the Kauffman Center was exciting, but doing it so thoroughly while still being very energy efficient was even more gratifying."
Contact
www.chauvetlighting.com sales@chauvetlighting.com 800.762.1084
E-mail:sales@chauvetlighting.com
Web Site:www.chauvetpro.com