XL Events supplies ŠKODA at the Goodwood Festival Of Speed
Jul 25th, 2012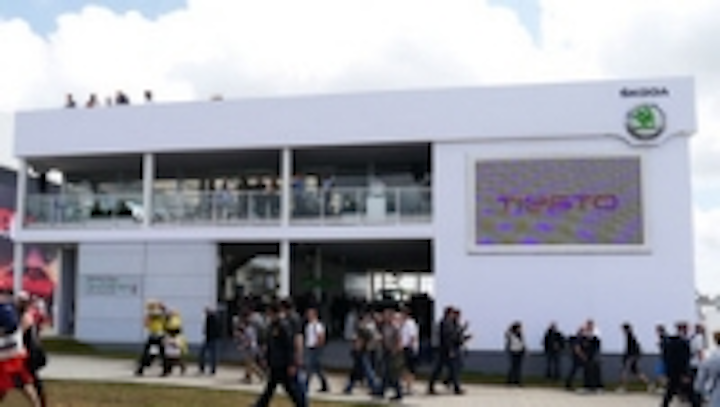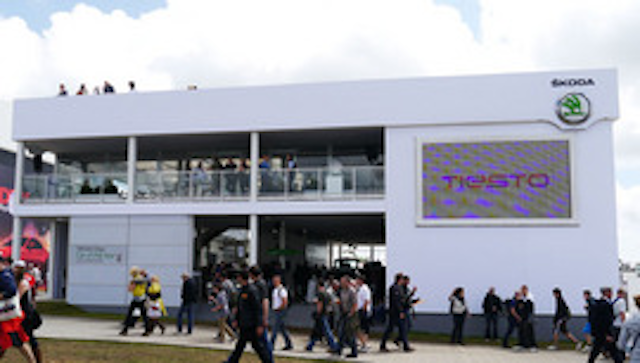 Date Announced: 25 Jul 2012
XL Events supplied audio and video equipment for two of the ŠKODA display areas at the recent 2012 Goodwood Festival of Speed, Chichester, west Sussex, UK.
One was in the 'Moving Motor Show' where approximately 40% of visitors entered the event, and the other was at ŠKODA's Pavilion stand in the main exhibition area. Commissioned by A1 (Events & Exhibitions) Ltd, based in Milton Keynes, XL Events was asked to provide video screens for both the inside and outside walls of the main Pavilion.
The main challenge when specifying the LED for the outer wall was to identify a product that was both light enough to hang on the exterior of a temporary structure, and that offered high resolution at short viewing distances.
Pixled's FX-11 was chosen as it is lightweight and suitable for outdoor use.
For the interior of the Pavilion, XL Events supplied two LCD seamless display walls formed from Eyevis Eye and a range of Panasonic Plasma screens placed around the 2 storey structure. Video content for all the screens was controlled by Pandora's Box media servers.
XL Events' Project Manager, Phil Smith, worked closely with AV Consultant, Richard Lucas of Tangent 90, to ensure the correct content was fed to the correct screens at all times.
In addition to providing the PA system for the Pavilion, XL Events worked with ŠKODA to provide the PA for a specially modified Citigo car which was transformed into a DJ booth for the event. A Midas Venice Mixer controlled the output to Nexo PS8 speakers and LS400 subs, creating a great club atmosphere for the stand, which was further enhanced by a Parkour acrobatic show performed throughout the Festival.
ŠKODA's location in the Moving Motor Show area also displayed their new Citigo city car – its first outing in the UK - and XL Events supplied an Eyevis LCD seamless display wall and Nexo PS8 PA system. This enabled the team there to further showcase the sporty new city car and promote ŠKODA's competition to win a Citigo each day of the event to a constant stream of public visitors.
"We really enjoyed working with A1 on this exciting design concept", said Phil Smith, "And we're proud to have helped deliver a successful event for ŠKODA."
Contact
Louise Stickland +44 (0)1865 202679 +44 (0)7831 329888
E-mail:louise@loosplat.com
Web Site:www.xlvideo.tv