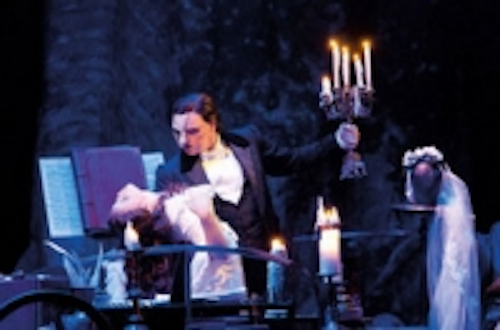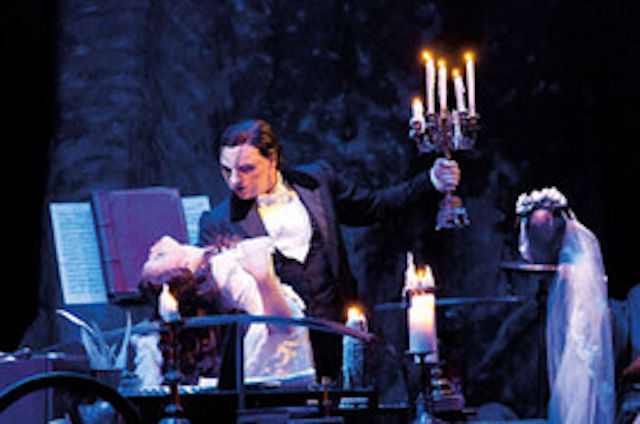 Date Announced: 05 Jul 2012
Chroma-Q™ Color Force™ 72 RGBA LED battens were specified by award winning lighting designer Paule Constable for the new Cameron Mackintosh UK and Ireland touring production of Andrew Lloyd Webber's "The Phantom of The Opera".
Paule's prolific design portfolio includes creating lit environments for the highest profile international theatre and opera productions, and her work is renowned worldwide for its experimentation, invention and creativity.
She had not used Color Force products before, but sought a powerful, well sized lightsource that could be utilised as an even spread 'soft light' tool to illuminate the numerous cloths and drapes that give Cameron Mackintosh and Andrew Lloyd Webber's classic, hugely successful musical its unique period flavour and ambience.
Paule was impressed with the information available about the Chroma-Q Color Force range, so initially contacted Chroma-Q's exclusive UK dealer, A.C. Entertainment Technologies (AC-ET) Ltd., and spoke to their Northern Lighting Sales Manager, Kevin Fitz-Simons about the capabilities of the product range.
After receiving a demonstration, she confirmed that Color Force battens were the perfect answer for achieving the desired effects.
"For me they were easily the best" out of all the choices, she confirms, "The colour mixing is brilliant, especially in that pale 'sludgy' area of the spectrum which I use a lot, and they generally offer an excellent theatre palette and really bring the cloths alive.".
The Color Force range offers a massive output across the spectrum, ensuring both vivid saturates and super-soft pastels are available from a single fixture.
She was also impressed with the fine-tuned theatrical grade dimming curve, and the smooth, homogenised light engine which makes Chroma-Q's Color Force range a favourite.
Reliability was another key factor as the tour is on the road for at least a year. The Color Force 72s were purchased from AC-ET especially for the "Phantom" tour by lighting rental contractor, Stage Electrics.
Mark Burnett from Stage Electrics comments: "The units have proved to be extremely reliable, and the light output is excellent. The Color Force 72's are a great addition to our rental inventory."
On top of all this, there are the usual benefits of Chroma-Q's cutting-edge LED technology including dramatically reduced power consumption, long life and low on-going maintenance.
At each venue, the Color Force 72 units were positioned on LX bars two and three. They are also the ideal size needed to fit into the show's rig, which is tight for lighting positions over the stage.
They are built into customised truss sections for ease of travelling, speed of rigging and fitting into the available space when in situ.
Touring Chief LX, Matt Rutter operates lighting for the show whilst on the road and the production LX is Ian Moulds.
Contact
Louise Stickland +44 7831 329888 +44 1865 202679
E-mail:louise@loosplat,com
Web Site:www.chroma-q.com