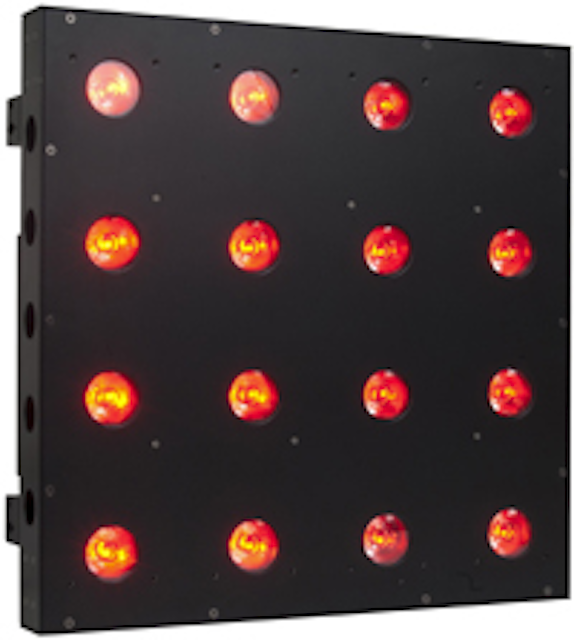 Date Announced: 17 Jul 2012
Los Angeles - More Power, More Punch, More Pixels….Designers and lighting professionals can dial up a spectrum of rich, perfectly blended colors for illuminating the largest stages, buildings, facades, landscapes and other entertainment or architectural elements where extreme output and/or direct view pixel blinder effects are desired with the new ELAR Quad Series from Elation Professional.
This exciting series of IP-rated RGBW wash fixtures, designed and built for rugged "production use," utilizes high-power 10W CREE LEDs with extreme optics Quad-Color Technology, for bright output and the highest quality, most advanced color mixing, while offering pixel control for extreme LED matrix effects.
Each of the ELAR Quad Series units' Quad-Color 10W CREE MC-E multi-chip LEDs contains four different color sources (red, green, blue, white), allowing mixing to be done inside each lens optic. This 4-in-1 configuration produces more smoothly blended colors and eliminates the distractive RGB shadows often associated with single-color LEDs. For even more precise color-mixing accuracy, the ELAR Quad Series features a Single Pixel Control Mode, giving designers pinpoint control over color production down to the level of individual pixels.
"Our customers have been asking us for brighter, more 'road rugged' LED solutions that can perform in the largest applications both indoors and outside, and the ELAR Quad Series fits this bill," said Eric Loader, director of sales for Elation Professional. "From our experience with Entertainment and Architectural -- 'Archi-tainment' -- we have molded our knowledge into this new series, providing our customers with the brightest solutions in a modular series design, creating four products that can be used stand alone for various applications or together as a creative scenic design element for shows."
For example to use as audience blinders, the ELAR Quad Panel features 16 x 10W Quad Color RGBW engines, which, when combined with pixel control, essentially make a large format video wall. "We even built integrated rigging into the design so customers can 'fly' the panels together like a video wall – hanging up to 10 pieces vertically," said Loader. "We also provided optional diffusion filter holders, allowing users to put our LSF filters in front of the 10° lenses to allow more coverage and even wash when used for general stage or audience wash."
Featuring both DMX-512 and manual control, the ELAR Quad Series offers a wide range of other design options, too. All of the units include built-in Color Macros, 0-100% Dimming, and a Strobe Effect (1-25 flashes per second). They also feature flicker-free operation, which makes them great for TV and film production as well.
As smooth and accurate as the ELAR Quad Series is, it is also tough and durable. Housed in a rugged IP65-rated die-cast aluminum case, the fixtures can withstand even the strongest winds and rainstorms, for years of worry-free use in outdoor environments.
Users won't have to worry about big power distribution requirements or electric bills for extended periods of illumination, either. The ELAR Quad Series is extremely energy efficient, with the fixtures' maximum power consumption ranging from just 75-290 watts.
Whether it's uplighting, wall, stage or audience wash for illumination or direct view for mind-blowing pixel effects, there's an ELAR Quad Series fixture that's right for the job. The series includes four models of varying shapes, sizes, brightness and beam angles:
ELAR Quad Bar – This half meter (20") bar contains 4 x 10W CREE Quad LEDs, which produce an output of 1,830 lux at 2.5 meters. It has a beam angle of 11.5° and field angle of 21°, and operates in five different DMX modes (4, 5, 6, 8 or 16 channels). Power consumption is just 75 watts.
ELAR Quad Panel -- A half meter (20" x 20") square panel, the ELAR Quad Panel is powered by 16 x 10W CREE Quad LEDs, arranged in four rows of four. Using a maximum 290 watts of power, its output at 2.5 meters is 12,170 lux. It features a 12° beam angle and 21° field angle. Users can choose from 4, 5, 6, 8, 16 or 64-channel DMX modes.
ELAR Quad Par – A par-style fixture with a 25° beam angle, the ELAR emits 14,250 lux at 2 meters, yet its maximum power consumption is just 125 watts. It contains 9 x 10W CREE Quad LEDs, and operates in six DMX modes (4, 5, 7, 9, 18 or 36 channels). Measuring 10.5"L x 9.1"W x 9.7"H, it comes with an integrated Floor Stand/Dual Yoke bracket for versatile mounting options.
ELAR Quad Strip – Extending 1meter (40"), this elongated strip is equipped with 8 x 10W CREE Quad LEDs. It produces 3,456 lux at 2.5 meters and runs on 137 watts of electricity. It has an 11° beam angle and 21° field angle. The ELAR Quad Strip can be operated in 4, 5, 6, 8, 16 or 32 DMX channel modes.
All ELAR Quad Series models offer RDM protocol integration for remote address, mode change, fixture information from your RDM console, making them ideal for use with Elation's RDMS6 RDM data splitter (sold separately). The units also feature a number of other user conveniences, such as a touch sensitive color LCD display, and a "recall" feature that enables them to hold their last state when the power is turned off. ELAR Quad Series fixtures are power and data linkable with integrated IP rated link cables and include an electronic switching power supply and multi-voltage operation 100-240V AC, 50/60 Hz.
Contact
Elation Professional 866-245-6726
E-mail:abby@fucinipro.com
Web Site:www.elationlighting.com