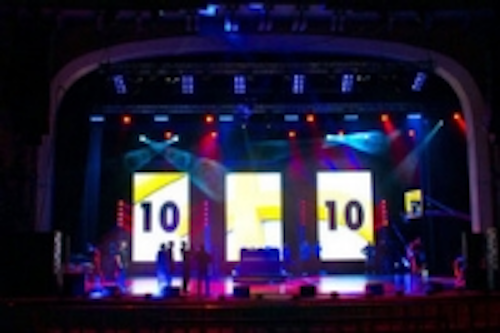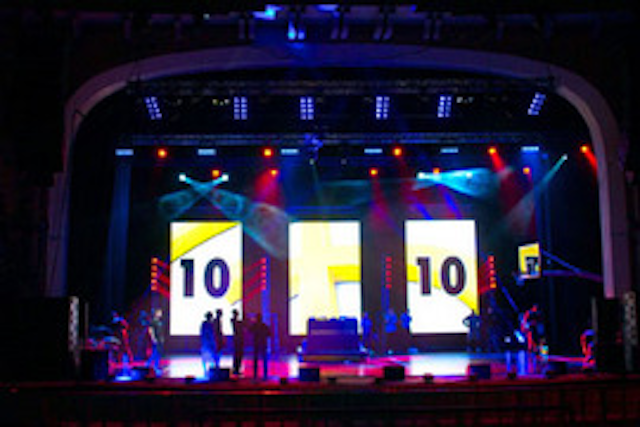 Date Announced: 05 Oct 2012
Universal Event Productions (UEP) recently delivered full technical production to two major Nike events staged in London – the World Basketball Festival and Nike Training Club.
UEP utilised its newest LED lighting technology for both events – the company is fast building a name for designing and supplying flexible, imaginative, low-powered lighting solutions for a diversity of live events.
World Basketball Festival
The World Basketball Festival was a four day event in Brixton, featuring a host of events and activities both indoors and outdoors including competitions, training, experientials and inspirationals. It culminated in a show at Brixton Academy headlined by US rapper / songwriter Big Boi, local hero and rapper Dot Rotten and rapper / poet Angel Boi also from the US.
UEP was asked to provide sound, lighting and video by event production company Slice PR, and together they produced an overall production design for the Academy show which was agreed with Nike.
The design incorporated an upstage video backdrop which brought great dynamics to the stage, setting the scene for this action.
'The action' included a slam dunk competition onstage and some other basketball orientated demonstrations - in addition to the performances - so the UEP team also faced and levelled the stage with MDF!
There was also a rousing appearance by the Miami Street Band plus interviews with a series of current Basketball stars.
The 12mm pitch LED was supplied to UEP via Anna Valley, complete with Christie Spyder control and management.
UEP supplied all the lighting equipment which was heavily LED based – fast becoming a trademark for the Buckinghamshire based company.
Says UEP's Steve Butcher, "It is light, hugely versatile and using the quality LED fixtures in our rental stock, all the elements people know and love about incandescent sources can be replicated with all the advantages of using LED."
The lights were hung on two over-stage trusses and consisted of 24 of UEPs new Robe LEDBeam 100s, 12 x Robe LEDWash 600s, 12 x Robe ROBIN 300 Washes, 12 x i-Pix BB4s and 12 x i-Pix Satellite Mk IIs, together with six Clay Paky Sharpies, six 300 Watt Beam lights and 12 other moving lights.
For front lighting and key lighting, they positioned 12 Cantata profiles on the downstage truss, and four Martin Jumbo strobes were available for special effects and excitement.
The power consumption was impressively low for a substantial rig. "I looked at the phase monitors as the show started," says Steve Butcher, "and the first two phases were pulling 7 amps each and the third 32A – it was incredible" – it gives the options of being more creative using a lot less power!
The lighting was operated by James Fickling running one of UEP's new Chamsys MQ Expert console.
For the basketball scenes, they flooded the stage with the LEDWash 600s and the ROBIN 300 Washes, chosen because they produce proper whites, and the lighting levels were excellent.
For audio, UEP collaborated with SAS Audio from the west Midlands who were already servicing other gigs in the venue close to the Nike event.
Utilising their L-Acoustics V-DOSC racks-and-stacks, UEP supplied a Yamaha PM5D console for FOH and a Yamaha M7 for monitors, together with a full radio 26 channel Sennheiser radio mic package.
Nike Training Club
A week later the UEP team were back in London, this time at Old Billingsgate Market, setting up technical production for this event which drew to a close with a 45 minute performance by Katy B.
Once again, UEP commissioned Anna Valley to supply all the video requirements which included a large upstage screen. Content was run to this via UEP's ArKaos system, a mix of library footage and some supplied by the client. There were also some camera feeds, as the stage/auditorium space was also utilised as part of the training event during the day, which was geared towards the women's fitness community.
Lighting was designed by Simon Madison and it was also heavily LED fixture based
For sound, UEP worked with HPSS from Hull who supplied another L-Acoustics V-DOSC PA, which was systems engineered by the UEP sound crew. UEP's Andy Nurse mixed Katy B's monitors as her own engineer had to be at another event, while UEP's Steve Ball 'baby-sat' FOH for her regular engineer.
Contact
Louise Stickland +44 7831 329888 (cell) +44 1865 202679 (office)
E-mail:louise@loosplat.com
Web Site:ww.U-E-P.co.uk