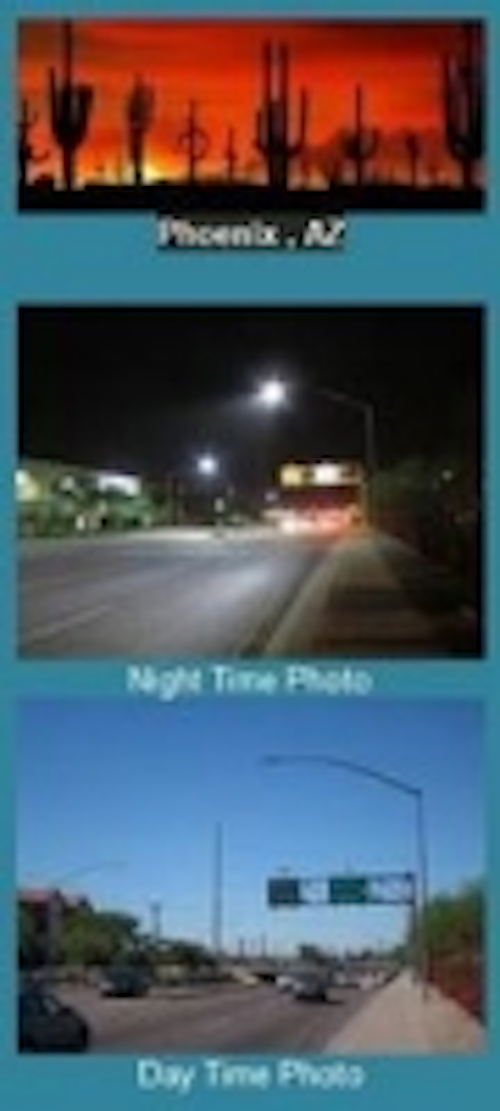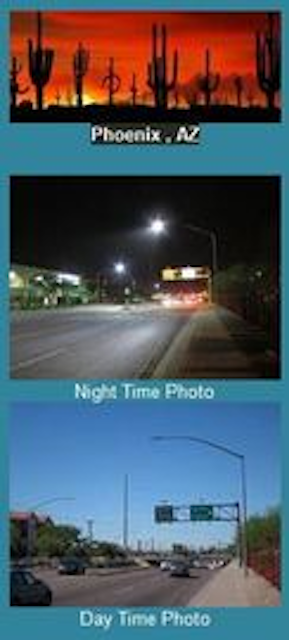 Date Announced: 26 Oct 2012
Excellence Opto, Inc. has recently installed e-litestar™ SL2 LED roadway streetlights in Phoenix, Arizona. The fixtures were installed to showcase the efficiency of our e-litestar™ luminaires.
The SL2 LED roadway streetlight delivers over 86 lm/w fixture efficacy with CRI of 5500K and excellent uniformity to the roadway illumination with great comfort and safety to the drivers and pedestrians. The 175 watts installed near the ramp of the freeway replaces the 310 watts HPS High Pressure Sodium lamps that saves over 55% energy savings and can last for more than 100,000 hours.
There is a difference with the clarity and uniformity of lighting distribution between the LED solid-state lighting (SSL) along with the high-pressure sodium (HPS) roadway streetlight. It is important to evaluate the lights in terms of visibility. The field test will illustrate how LED lights use lesser energy while giving safety and better vision for drivers and pedestrians.
The SL2 has a great BUG rating that meets cities' requirements. Photometric distribution is available in Type I, II, III, and V with house side shield option in certain models. Unique IP66 design of the MCPCB LED module and power chamber protects the components from water and dust intrusion. The tool-less access and quick-connect features of the SL2 street light makes maintenance easier. Adding photocell receptacle is an additional and optional feature that is easy to be installed on the fixture and it's tool-less rotatable in the field. The choice of LED lighting ensures long-life operation with minimal maintenance and huge energy saving.
To get more information on e-litestar™ SL2 LED roadway, go to http://www.e-litestar.com/roadway-sl2/.
Contact
Allen Lin Sr. Sales Engineer Excellence Opto, Inc. 1663 West 2nd Street, Pomona, CA 91766 T: 909-784-3333 / F: 909-784-3330
E-mail:allenlin@e-litestar.com
Web Site:www.e-litestar.com