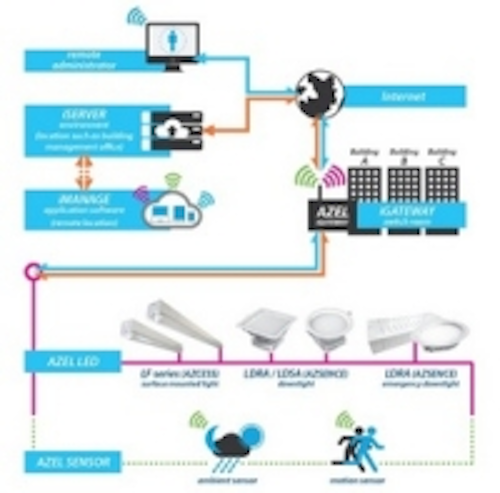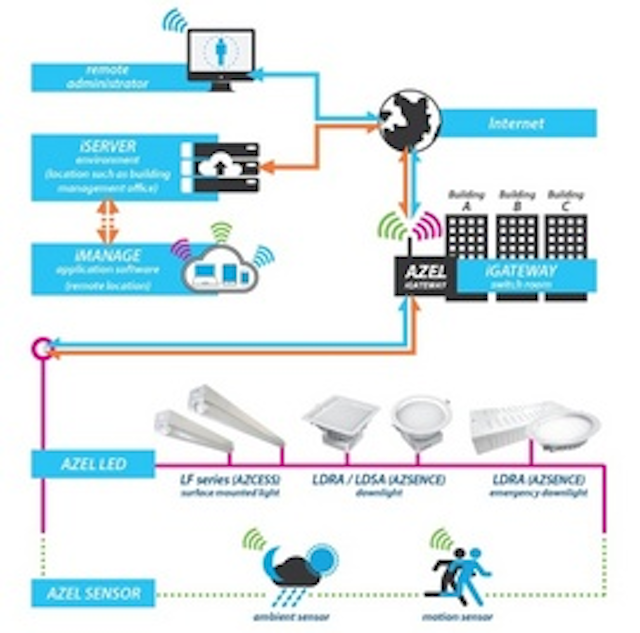 Date Announced: 23 Oct 2012
SINGAPORE & HONG KONG – AZ e-lite Pte Ltd ("AZ e-lite"), a wholly-owned subsidiary of Aztech Group Ltd specialising in the design and development of quality LED lighting, is presenting its latest LED lighting solutions to visitors of the Hong Kong International Lighting Fair (Autumn) 2012, a major event in the lighting trade industry.
AZ e-lite will launch its latest product – AZEL Intelligent Lighting Control System – at the exhibition. Lighting represents about 17.5% of global electricity consumption. However, only a small percentage of lighting in commercial and residential buildings is managed by intelligent lighting controls which can significantly improve the energy efficiency. The main hindrance is the cost and ease of deployment.
AZEL Intelligent Lighting Control System is a complete lighting management and control system that can manage multiple buildings and sites concurrently. This intelligent, interactive and intuitive system uses existing power lines to network all the lighting fixtures, lighting controls and sensors. No new wires or additional cabling are required, hence you can easily implement this solution over your existing infrastructure. Users are able to control lighting usage for buildings, streets and car parks on demand based on individual requirements.
AZEL has an intelligent control gateway (iGateway) that communicates with all networked lighting and sensor devices (AZEL LEDs) and can be managed remotely using the Internet or mobile devices (iServer) anytime and anywhere. Networked occupancy and ambient sensors (AZEL Sensors) can be strategically placed to report human traffic and surrounding ambient conditions for the system to determine the lighting level to set. The system also allows remote diagnostic of lightings and sensors and easy maintenance through the configuration server (iServer).
AZEL allows lighting levels to be controlled by the following:
•Time-based – Lighting level defined by time (e.g. lighting level set to 100% from 7pm to 12am and reduced to 50% from 12am to 6am. Turning ON/OFF can be based on sunrise and sunset timing);
•Sensor-based – Lighting level change based on sensor (e.g. lighting level set to 100% when human movement is detected and turned off when no motion);
•Remote Control – Lighting policy can be changed remotely anytime by administrator to override the pre-set controls.
With AZEL Intelligent Lighting Control System, new and existing buildings can reap the benefit of improving their lighting system's energy efficiency. According to a report from Pike Research, the global revenue for intelligent lighting controls is expected to grow from US$1.3 billion in 2011 to as high as US$3.5 billion by 2016.
Other AZ e-lite products to be showcased at Hong Kong International Lighting Fair include:
•AZCESS LF and AZPAND LFC series LED Surface Mounted Lights
•AZCEL LT8B series LED Tubes
•AZSENCE 4, 6, 8 inch LED Downlights
•AZPRESS LCR1424 series LED Ceiling Lights
•AZPLORE LBHR 1424 series LED Bulkhead Lights
•AZCITE LPD100 Pixel Dot RGB LED Lighting System
Contact
Jesmine Ong Tel: (65) 65942276
E-mail:jesmine.ong@aztech.com
Web Site:www.azelite.com