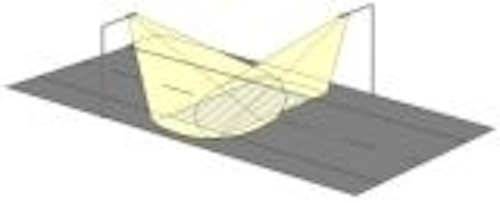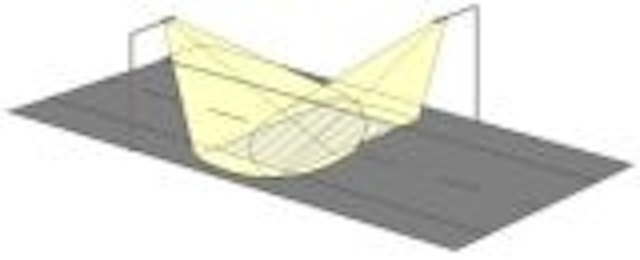 Date Announced: 06 Dec 2012
With the new LED street lighting FUTURLUX CROSS-WALK, designed by SWARCO FUTURIT, pedestrians get significantly enhanced visibility and conspicuity at zebra crossings thanks to optimum light direction and being laterally illuminated out of each traffic flow direction. Therefore each pedestrian is fully identifiable as a person and becomes optimally visible due to his contrast against the background created by the laterally shed light. Approaching drivers are able to recognize from a distance, if a pedestrian is on the zebra crossing or waiting area (see also sketch). The white light of LEDs allows an excellent color rendering which increases visibility of pedestrians compared to sodium vapour street lights.
FUTURLUX CROSS-WALK enhances safety at pedestrian crossings due to its specific technical details. Luminous flux of 9000lm, a power input of 79W, high power LEDs (min. 125lm/W), a color temperature of neutral white 4100K and a power factor of ≥ 0.95 (at 230V AC / 50Hz) are only a few parameters that make this luminaire unique. As all FUTURLUX street lightings also the FUTURLUX CROSS-WALK fulfills conventional standards as well as high requirements of the ENEC Mark and is certified by the "International Dark-Sky Association".
FUTURLUX CROSS-WALK sets new standards in terms of safety and energy saving due to the use of an optimized reflector system combined with efficient high power LEDs. Excellent optical values with remarkable energy saving are the reason for applications of FUTURLUX CROSS-WALK in many communities.
SWARCO FUTURIT is the leading global player in LED-based signaling technology. The company specialises in traffic lights, variable message signs, street lighting and railway signals using the very latest developments in light emitting diode (LED) technology offering ecological friendliness and the advantages of low failure rate, energy-saving and a long operating life.
Contact
SWARCO FUTURIT Verkehrssignalsysteme Ges.m.b.H office: Mühlgasse 86, A-2380 Perchtoldsdorf, Austria factory: Manfred-Swarovski-Strasse 1, A-7343 Neutal, Austria T. +43-1-895-79-24 F. +43-1-894-21-48
E-mail:office.futurit@swarco.com
Web Site:www.swarcofuturit.com