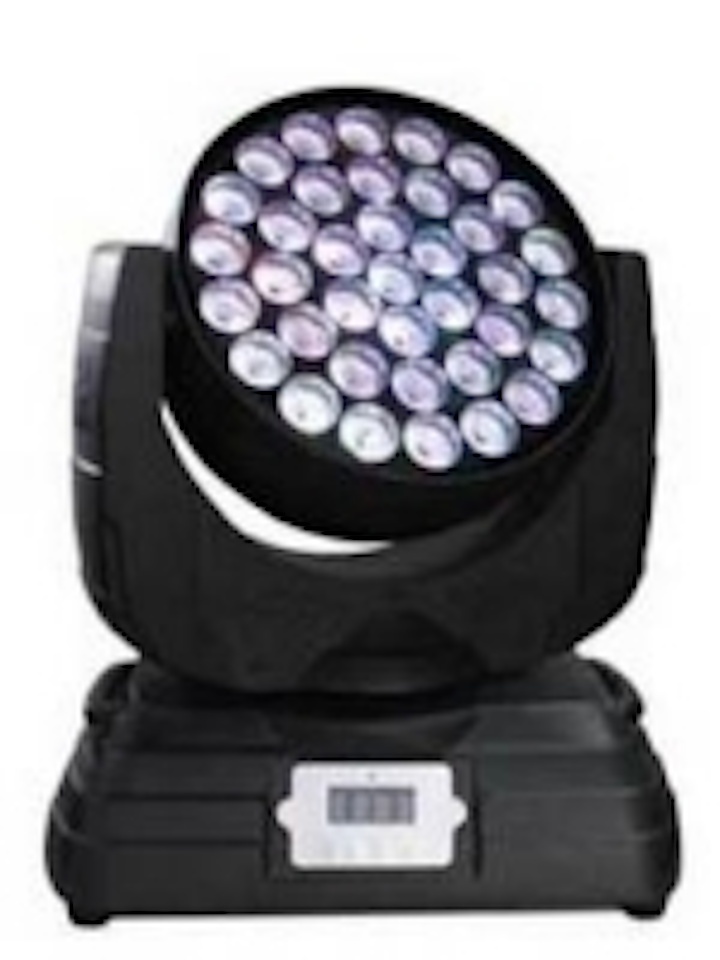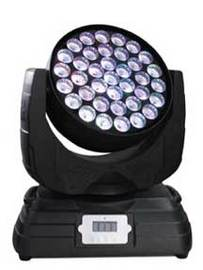 Date Announced: 20 Dec 2012
Wireless Solution Sweden AB's award-winning W-DMX™ technology is now available in the newest moving head in the popular XLED moving head range of products by PR Lighting, the super-bright XLED 1037.
Characterised by the use of 37 x 10-Watt RGBW LEDs (containing four colours in one), another key feature is its wide linear zoom, with beam angle ranging from 12° to 54°. Additional features include a linear CTO from 3200K to 10000K, linear colour mixing with macro function, 0-100% linearly adjustable dimmer and an electronic strobe (0 to 25fps). In terms of movement, the XLED 1037 offers speed adjustable pan and tilt (with pan angle of 0°-540° and tilt of 0°-270°) with auto position correction function. It also enables auto speed adjustment of the fans, brightness and contrast adjustment and boasts an advanced cooling system, with LED lamp overheating and DMX512 control display statuses.
With the addition of W-DMX, the XLED 1037 has various control options and also supports the DMX RDM bi-directional communications protocol. And it all weighs in at a mere 12.85 kg (28.3 lbs).
Other PR Lighting products that offer W-DMX include the PR-5000 Spot and Wash and the PR-8802 Architectural LED Wash.
Ernie Armas, Sales Director for PR Lighting commented, "We have been using W-DMX for over two years and have experienced great service and support, a strong OEM network, optional RDM features and a high quality product. W-DMX is by far the best solution for our range. In addition, PR Lighting products can be found at W-DMX distributors such as CSI in France and White Light in the UK, making them even more accessible."
Niclas Arvidsson, CEO of Wireless Solution said, "PR Lighting offers a diverse range of high quality lighting products to the market and we're proud to be chosen as their wireless DMX OEM partner. We are confident that this will enhance their already strong product range."
Wireless Solution Sweden is the world's leading manufacturer of Wireless lighting control equipment, now celebrating 100,000 units sold worldwide and over 45 OEM partners. Hailed for its reliability and ease of use, Wireless Solution's W-DMX range of products is the consistent choice for top professionals in the lighting industry and specified with perfect results in high-profile events and installations around the world. W-DMX is also hailed as the best wireless OEM solution. W-DMX has been used in major lighting applications including the Marina Bay Sands in Singapore, Bruce Springsteen, Lady Gaga, Coldplay, Superbowl XLVI and many more.
PR Lighting is a first-grade enterprise of lighting in the world and is recognized as one of the top companies among Chinese enterprises in the lighting industry. The company is human oriented and motivated by technology, developing through innovation to provide best products and service.
For more information about W-DMX, visit www.wirelessdmx.com. To learn more about PR Lighting visit www.pr-lighting.com.
Contact
Joan Lyman Melzig +46 708 204 767
E-mail:sales@wirelessdmx.com
Web Site:www.wirelessdmx.com