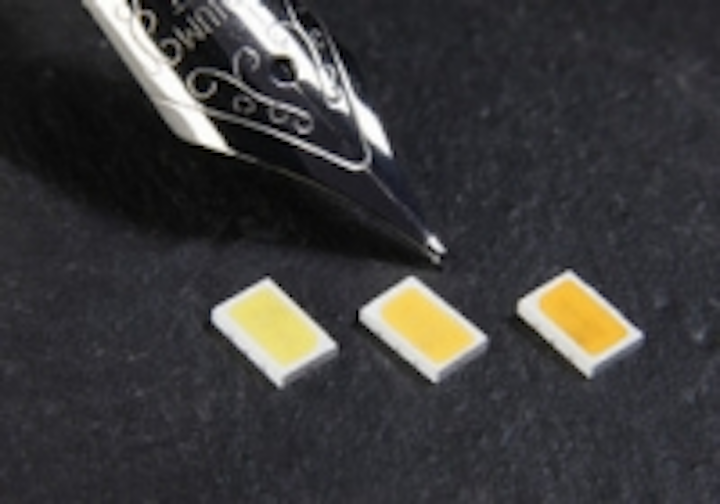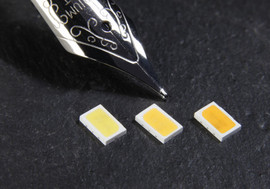 Date Announced: 17 Dec 2012
YEG Opto is launching the new Samsung MP36S series of mid-high power LEDs specifically designed for lighting applications. These 0.6W-1.2W LEDs give the best lumen-cost ratio of any LED in this class available today and will open new application possibilities for LEDs previously believed not to be technically or commercially viable or practical.
The MP36S is a crossover LED bridging the gap between mid and high power LEDs as it benefits from the features of both types. At the same time, it offers the low price point offered by mid power LEDs. The MP36S package measures only 3.6x2.3x0.6mm but delivers up to 80 lumens at 100mA and 110 lumens at 150mA. Samsung offer these LEDs with full, quarter, 3 step McAdam and 'Kiting' binning making MP36S attractive to producers of cost effective and high spec luminaires alike. LM80 testing at low and high temperatures is underway and will be complete in mid 2013.
Closely spaced high density arrays for downlighters and high flux strips are two examples of the use of MP36S which are available in colour temperatures ranging from 2700K to 6500K. YEG Opto offers focused and expert technical and applications advice, targeted to provide designers and specifiers with short development cycles and minimum time to market
To see the new Samsung MP36S range visit our website at:
http://www.yegopto.co.uk/LightingLEDs/Mid_Power/Samsung/MP36S_White_Mid_Power_Emitter
Contact
John Turney – Divisional Manager YEG Opto Tel: +44(0)1494 753617
E-mail:john.turney@youngelectronics.com
Web Site: www.yegopto.co.uk/LightingLEDs/Mid_Power/Samsung/MP36S_White_Mid_Power_Emitter