MaxLite introduces LED high/low bay lamp and highbay fixture for commercial and industrial lighting applications
Dec 7th, 2012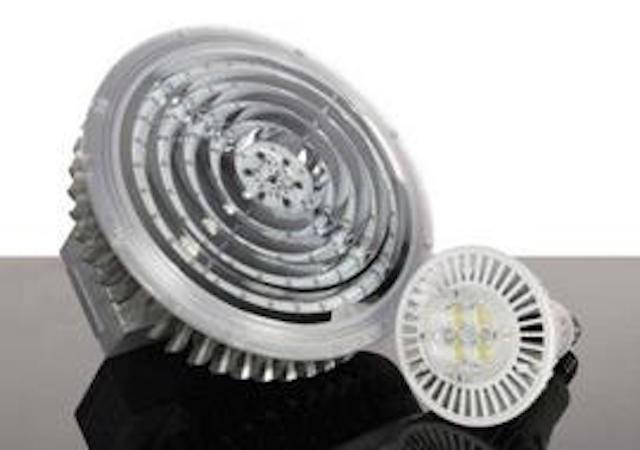 Date Announced: 07 Dec 2012
West Caldwell, New Jersey – Offering new energy efficient lighting solutions for large commercial and industrial lighting retrofit applications, MaxLite® introduces the LED BayMAX™ High/Low Bay Retrofit Lamp and DesignLights™ Consortium (DLC)-certified LED Highbay Fixture for use in gymnasiums, warehouses, factories and other sizable spaces.
"Utilizing the latest energy efficient LED technology, we have introduced these LED products for replacing inefficient lighting in large-scale commercial and industrial environments," explains Pat Treadway, MaxLite's Director of Product Marketing. "Long life, enhanced lumens and reduced maintenance and operational costs will play a major factor in helping customers choose our latest LED products."
Designed for quick conversions to LED technology in existing mogul-base HID and incandescent lighting fixtures, the compact, lightweight LED BayMAX High/Low Bay Retrofit Lamp is ideal for low bay and high bay applications in areas where changing fixtures is difficult or disruptive to operations; a simple ballast bypass allows re-use of the existing mogul base. The 43-watt LED lamp, which delivers a high lumen output and a crisp white light, allows for quick updating from a 100-watt HID light source to an energy efficient LED light source. The lamp features a unique oscillating diaphragm that accelerates the transfer of heat away from the LEDs. The diaphragm is not affected by ambient temperature variations or dust accumulation, and is constructed without frictional moving parts that would wear out over time. The solid state diaphragm design offers thermal management comparable to a cooling fan without emitting any audible noise.
The BayMAX lamp is constructed with polycarbonate optics and a die cast magnesium alloy heat sink that enables cool operation with very low weight. With an 80-degree beam spread, the lamp is engineered with proprietary binned LED chips that provide uniform color consistency and quality. To see the data sheet, click on http://www.maxlite.com/PDFs/DataSheets/BLHR43UN50.ds.pdf.
Joining the growing list of DLC-certified indoor and outdoor luminaires that qualify for national utility rebates, the new LED Highbay Fixture is designed for 20-foot and higher ceiling applications. The 150-watt unit replaces a 350-watt metal halide fixture and delivers a high output of 11,460 lumens. The fixture is designed with an enclosed power supply housing and covered optics. The heavy-duty fixture is constructed with a lightweight aluminum heat sink, and a durable aluminum housing that is protected against dust ingress and water spray. A high quality lens encloses proprietary binned LEDs for uniform color and quality. Delivering a 70-degree beam angle, the LED fixture features a slide-out tray that enables the fixture to remain suspended while being serviced to minimize maintenance time and costs. To view the data sheet, click on http://www.maxlite.com/PDFs/DataSheets/MLHB150LED50N.ds.pdf.
(Photos: http://www.maxlite.com/PDFs/PR/PRkit/Maxlite_HighbayLampFixture.jpg.zip)
About MaxLite (www.maxlite.com)
Inheriting global manufacturing and marketing expertise that dates back to 1955, MaxLite was one of the first movers into LED technology in the industry. Committed to energy efficiency as an ENERGY STAR® Partner of the Year, MaxLite established the MaxLED® brand, an extensive line of indoor and outdoor lighting fixtures featuring innovative LED luminaires and lamps using the latest state-of-the-art LED technology. Through MaxLite's innovative research and development capabilities in its California office and product assembly center in New Jersey, MaxLite continues to be at the forefront of energy efficient technologies. For more information, call 800-555-5629, email info@maxlite.com, or follow us at https://twitter.com/maxlitenewsroom.
Contact
Christopher Pica T 631.262.0374
E-mail:CPMediaRelations@gmail.com
Web Site:www.maxlite.com