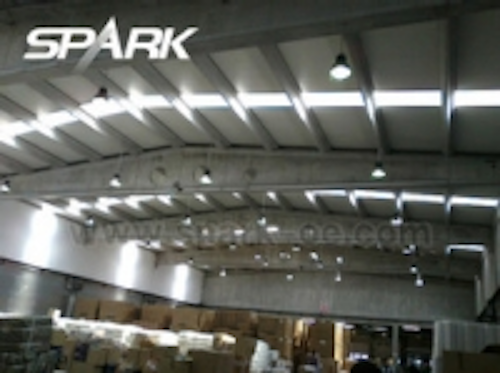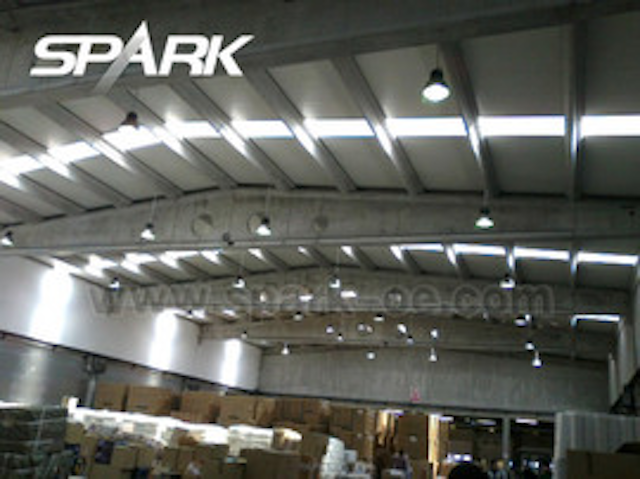 Date Announced: 04 Jun 2012
In May 2012, Shenzhen Spark LED high bay light (90W) has been successfully installed for a factory's warehouse in Croatia, the lighting in the warehouse is soft, good illuminance Uniformity and very comfortable. In addition, Spark LED high bay light of more than 50000 working hours reduces the cost caused by frequent replacement of the traditional lights, which also lowers the electricity fee and maintenance charges through improving the working efficiency, decreasing the failure rate and guaranteeing the operation safety simultaneously.
High quality warehouse lighting not only may meet the industrial production of extreme environment and reduce energy consumption, but the more comfortable visual environment make staff ease work fatigue significantly, and keep a good working status. Improve visual conditions, so that people feel relaxed and happy under the lighting and reduce lighting environment pollution.
Spark LED high bay lighting adopt original American CREE LED lighting ,the efficiency up to 85-90lm / W, has an obvious advantage compared to traditional metal halide lamps and high pressure sodium lamp, energy-saving rate is over 60%. Special surface treatment process, appearance, good heat and corrosion features. The unique light distribution, spot uniformity. Color is good, close to natural light, presents a more real kind color. A variety of light and color optional, to meet the needs of different environments, eliminating the traditional lamp color temperature is high or low due to repressed emotions, visual comfort, and improve the efficiency of the workers.
In addition, Spark LED HIGH BAY used constant current with the wide voltage wide voltage (AC100V-240V) to overcome due to ballast power grid, noise pollution and cause light instability. Flicker and noise, strobe hazard, visual observation of small objects is real clear, bright and comfortable lighting environment to avoid the stimulus to bring work to eye fatigue. Strive to provide the best lighting for storage and task lighting.
The visual space of the warehouse of Croatia become bright and clear, no glare, ghosting, safe and comfortable after retrofitting lightings, the customer has been very satisfied with our lamps. Spark committed to providing customers a more refined, reasonable lighting solutions and perfect in the details of our lamps.
Contact
Keziah Song General Manager Tel: (86 755) 8390 4366 Fax: (86 755) 8390 4766
E-mail:sales@spark-oe.com
Web Site:www.spark-oe.com