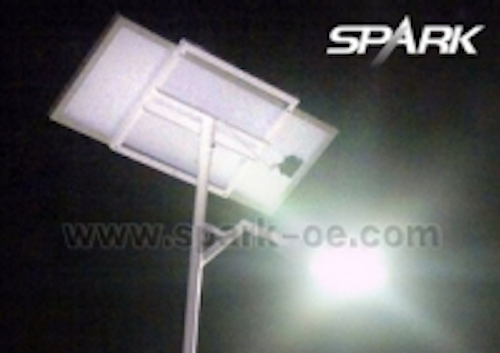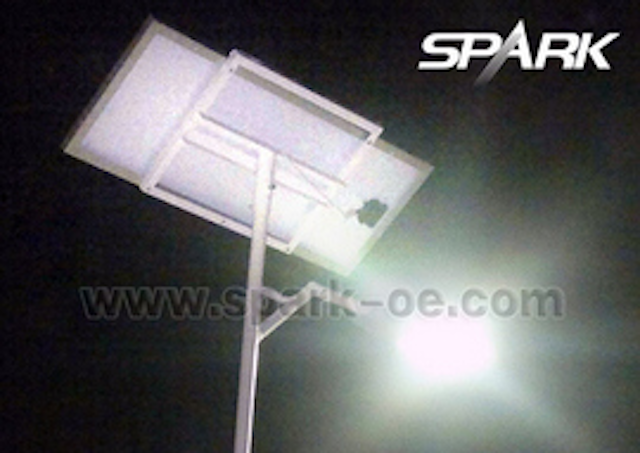 Date Announced: 13 Jun 2012
Recently, the solar street light project in Saudi Arabia streets is finished and starts working successfully. The solar street lights are from Spark optoelectronics company, combined solar renewable advantage with high efficiency, energy saving, eco-friendly, long life span LED street light advantages. The green and eco lighting source provides a reliable street lighting solution to the Saudi Arabia Street.
Shenzhen Spark Optoelectronics Company was established in Mar. 2000, Specializes in R&d, manufacturing and marketing in the field of LED lighting products and honored as national high-tech enterprise, obtained domestic first authorized "solar semiconductor lighting lab". Spark focuses on solar system optimizing and matching design, solar energy complementary system, solar semiconductor lighting system wireless distant monitor, secondary optics and heat conductive technical research. Depending on Spark "Global LED lighting product research and manufacture base" R&D and massive production advantages, Spark company could satisfy worldwide customers' energy saving requirement for solar semiconductor lighting more and more efficiently, and provide complete and advanced solar semiconductor lighting comprehensive solution for customers.
Spark solar LED street light adopts unique and innovative design of modular integration and professional optical lens. The heat of light dissipates directly and light decay is reduced significantly. The asymmetric lens effectively improves light utilization.
The feature of average beam pattern, high color rendering index, no flicker, no discomfort glare, and overvoltage, under voltage protection function, greatly reduce the error rate, so long life, safe and reliable. Combining with local sunshine conditions and climate changes of the season, it optimizes battery life to enhance efficiency, performance and get the best energy output.
Saudi Arabia owns abundant solar energy resources. Spark solar LED lights develops the local sunny advantage there and transfers the solar energy to lighting system efficiently. After projects were finished, Spark solar LED light's well performance and significant energy saving effect won high praise from local customers and they specifically display our products in their exhibition hall. We Spark will continuously improve our product technology and details to provide more exquisite and better solar solution, and contribute for landscaping in Saudi Arabia, resource conservation and energy diversification.
Contact
Keziah Song General Manager Tel: (86 755) 8390 4366 Fax: (86 755) 8390 4766
E-mail:sales@spark-oe.com
Web Site:www.spark-oe.com