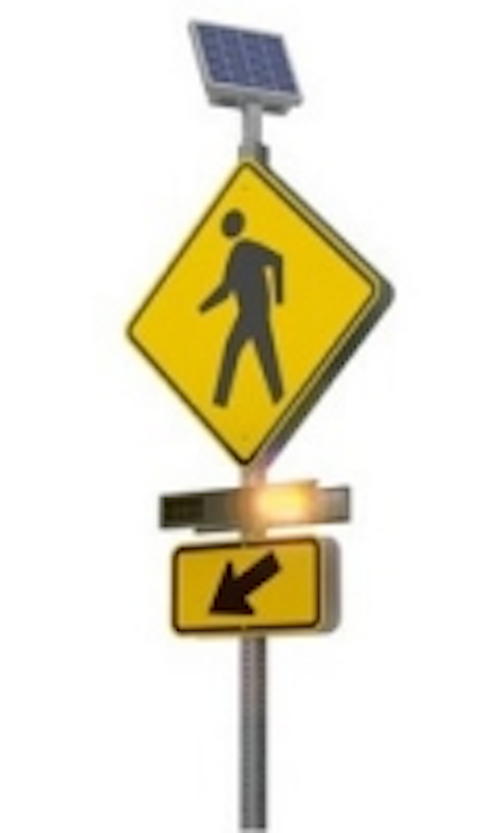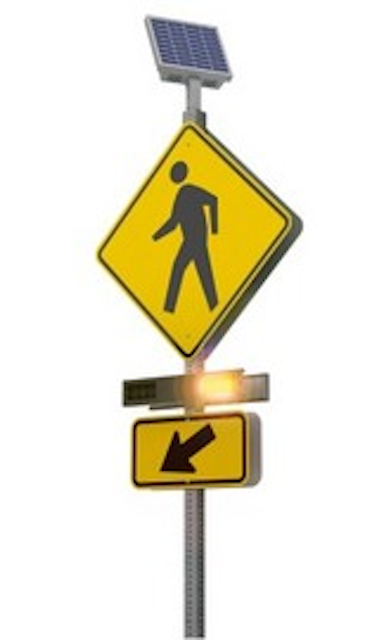 Date Announced: 22 Jun 2012
The R920 will be showcased at the IMSA (International Municipal Signal Association) Annual Conference, July 28-31st in Orlando, Florida
Victoria, British Colombia, Canada - Carmanah Technologies Corporation (TSX: CMH) is pleased to announce the launch of the R920 Rectangular Rapid Flashing Beacon (RRFB): the latest technology in crosswalk warning systems. This new device includes features proven to significantly improve crosswalk safety and has experienced rapid acceptance and adoption in the industry. The pedestrian-actuated system provides a high-intensity rapid flash pattern to alert vehicles approaching a crosswalk that pedestrians are present. The R920 RRFB Series will add to Carmanah's industry proven line of solar flashing beacons which have been successfully used by City, County, and DOT (Department of Transportation) Agencies in the US, Canada, and internationally for over a decade.
Traffic Engineers and Planners have struggled with a dilemma of crosswalk safety since a landmark study published by FHWA in 2005 found that once vehicle volumes and speeds exceeded a certain threshold, a crosswalk with basic pavement markings and signage was associated with a higher pedestrian crash rate compared to having no crossing at all. For many of these situations, the dilemma is that a traffic signal is too costly and often is not warranted; standard crosswalk signs and markings alone are not effective; and until the RRFB, the various active warning systems available have been either cost-prohibitive, marginal in effectiveness, or both.
The Federal Highway Administration (FHWA) has issued an interim approval of the RRFB within the Manual of Uniform Traffic Control Devices (MUTCD), following an extensive study that monitored the effectiveness of the devices over a two-year period. According to the FHWA Interim Approval, "The RRFB's very high compliance rates are previously unheard of for any device other than a full traffic signal and a "HAWK" hybrid signal, both of which stop traffic with steady red signal indications."
"The design and performance of this new product presents low power demands, which provides the opportunity to deliver a very compact, cost-effective solar solution that meets or exceeds standards," notes Carmanah's CEO, Bruce Cousins. The system is being designed with Carmanah's latest solar, LED, and wireless technology. "Our goal is to deliver a product that can be installed for a fraction of the cost of a traditional AC powered system, which will enable cities and other traffic agencies to improve safety at significantly more crosswalks than previously possible."
The R920 will be showcased at the IMSA (International Municipal Signal Association) Annual Conference, July 28-31st in Orlando, Florida. For more information about the RRFB by Carmanah, visit www.carmanah.com/traffic or contact us today at info@carmanah.com
About Carmanah Technologies Corporation
As one of the most trusted names in solar technology, Carmanah has earned a reputation for delivering strong and effective products for industrial applications worldwide. Industry proven to perform reliably in some of the world's harshest environments, Carmanah solar LED lights and solar power systems provide a durable, dependable and cost effective energy alternative. Carmanah is a publicly traded company, with common shares listed on the Toronto Stock Exchange under the symbol "CMH". For more information, visit www.carmanah.com
References:
FHWA Policy Memorandum: Interim Approval for Optional Use of Rectangular Rapid Flashing Beacons
http://mutcd.fhwa.dot.gov/resources/interim_approval/ia11/fhwamemo.htm
"Effects of Yellow Rectangular Rapid-Flashing Beacons on Yielding at Multilane Uncontrolled Crosswalks"
http://www.fhwa.dot.gov/publications/research/safety/pedbike/10043/10043.pdf
Safety Effects of Marked Versus Unmarked Crosswalks at Uncontrolled Locations Final Report and Recommended Guidelines
http://www.fhwa.dot.gov/publications/research/safety/04100/
Contact
David Davies Tel: +1.250.382.4332
E-mail:ddavies@carmanah.com
Web Site:www.carmanah.com/traffic