Minmax Power announces MKW40 series of 40W DC/DC power modules
Jun 22nd, 2012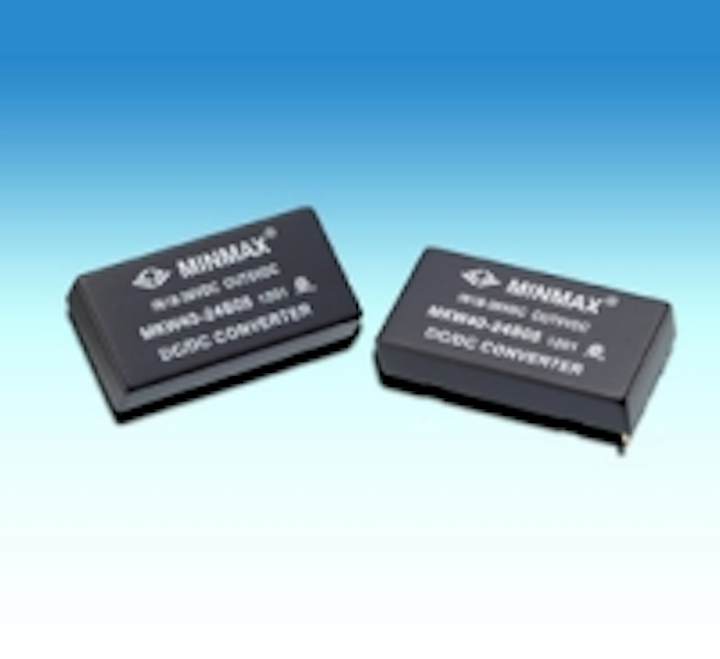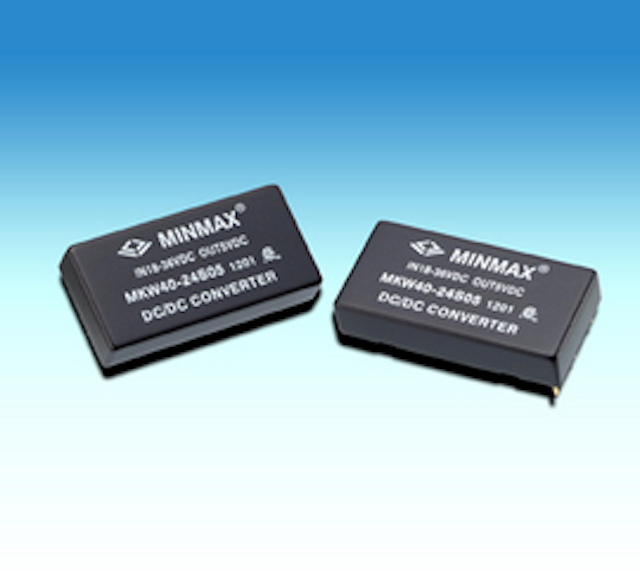 Date Announced: 22 Jun 2012
The Minmax MKW40 Series is a 40 Watt DC/DC converter in a compact 1" x 2" shielded metal case with an optional heatsink. This series is EMC compliant to EN55022 Class A and has international safety approvals, making it ideally suited for worldwide use in space critical applications in a variety of equipment, including battery-powered.
The MKW Series features 2:1 input ranges, single/dual tightly regulated outputs, super high efficiency ratings (up to 92%), remote on-off, an operating temperature range of -40ºC to +80ºC, and comprehensive protection circuitry. All Minmax DC/DC power modules use high quality, 100% RoHS compliant materials and are manufactured to Minmax's rigorous ISO-9001 quality control program to ensure high product reliability. There is a 3-year product warranty.
The MKW40 Series provide a cost effective solution for many space critical applications in commercial and industrial electronic equipment. The MKW40 pricing starts at $28.00 in OEM quantities, with availability from stock to 8 weeks ARO. Full specifications are available at www.minmaxpower.com or by contacting our technical group at tech@minmaxpower.com. For price and delivery questions, please contact us at sales@minmaxpower.com.
About Minmax Technology
For over 23 years, Minmax has provided leadership for power conversion products as a specialist in the design and manufacturing of low to middle power DC/DC converters & AC/DC power modules. The standard range of converters covers power outputs from 1 to 60 Watts with the most comprehensive product ranges. Products are carefully designed and are certified to the latest international safety, EMI, and environmental criteria.
Requests for modified standard and full custom solutions are welcomed and typically handled with little or no additional engineering costs. We guarantee competitive price points, ease of distribution channels, fast delivery and superior technical engineering support.
In addition to the Hudson, MA office, Minmax Power's distributors, Component Distributors and Norvell Electronics (CyPower), offer ease of on-line ordering for customer convenience
Contact
Susan Cervenak Phone: 978-567-9615
E-mail:scervenak@minmaxpower.com
Web Site:www.minmaxpower.com