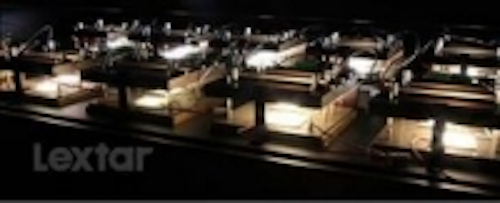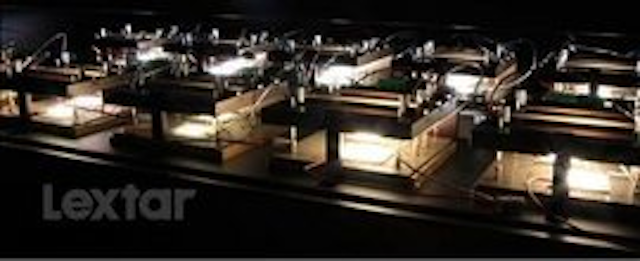 Date Announced: 06 Sep 2012
-- Lextar LEDs Completed 6,000 Hours of LM-80 Testing on Its 3014 and 5630 Package
Lextar Electronics Corp. ("Lextar" or the "Company") (TAIEX: 3698) announces its "Photometric Laboratory" has been listed with LM-79 and LM-80 accreditation. This makes Lextar the first of any LED corporation in Taiwan to be awarded both accreditations and shows the company's commitment to cultivating the LED industry. Additionally, Lextar's 3014 and 5630 LED package have exceeded 6,000 hours of LM-80 testing, indicating the company has a high level of quality and reliability.
Lextar is the only vertically integrated LED company in Taiwan; its Photometric Laboratory has also become the only one throughout the island and is also one of the few in the world at the same time to become accredited with LM-80* packaging testing approval and LM-79** lighting product testing. In the future, Lextar will be able to use its own laboratory for product testing, which will simplify testing procedures, decrease time and lower costs, as well as quicken the company's ability to capture LED lighting business opportunities across the world.
In addition, Lextar's 3014 and 5630 LED packages have completed 6,000 hours of LM-80 testing over a course of nearly 9 months and are able to remain a high standard luminous output when subjected to temperatures at 55 and 85 degrees Celsius, showing that the products have enhanced their lifespan reliability. The 3014 and 5630 packages have many advantages such as high degree of stability and quality, and can be used in bulbs, tubes, down lights, panel lights, advertising light boxes as well as in many other applications, making them the most popular of LED products within the company. Lextar's CoB product series is also the process of LM-80 testing, which is expected to be accredited as of next year.
Footnotes
* LM-80 is the Lumen Maintenance assurance for LED packaging. LED lumens (brightness) decay over time, producing phenomena such as light fades or colorcast. The LM-80 test approach uses LED packaging at multiple temperatures for 6,000 hours to determine the quality and life of a particular LED. Major international plants at present all use LM-80 as indicators for the quality and life of their LED packages, making it a common testing standard across the globe. This certification helps downstream lamp manufacturers determine the quality of the pros and cons of LED lighting, and can significantly shorten the verification time needed for customers' lamp products.
** LM-79 is the industry standard procedure for photometric and electrical measurements for LED lighting products. LED lamp manufacturers can test and report through LM-79 to provide an optical measurement value of credibility, which enhances the trust between customers and their products and vendors.
About Lextar Electronics
Lextar Electronics Corporation (TAIEX 3698), founded on May 23, 2008, is a subsidiary of AU Optronics. It specializes in manufacturing high-brightness LED epi wafers, chips and packages, as well as energy-saving and smart lighting products. The range of applications includes LCD backlighting, professional lighting source, consumer lighting source and various lighting products. Lextar officially acquired LightHouse Technology Inc. in March 2010. The company now houses more than 2,400 employees and its headquarters is in the Hsinchu Science Park, Taiwan. Its manufacturing plants are located in the Hsinchu Science Park, Hukou Industrial Park and Chunan Science Park in Taiwan, and a assembly plant in Suzhou, China. Lextar's turnover in 2011: USD 309 million.
Contact
Fiona Chiu Corporate Communications Lextar Electronics Corp. Tel: +886-3-5658800 ext 1894 Fax: +886-3-5638319 ext. 501894
E-mail:Fiona.Chiu@Lextar.com
Web Site:www.Lextar.com