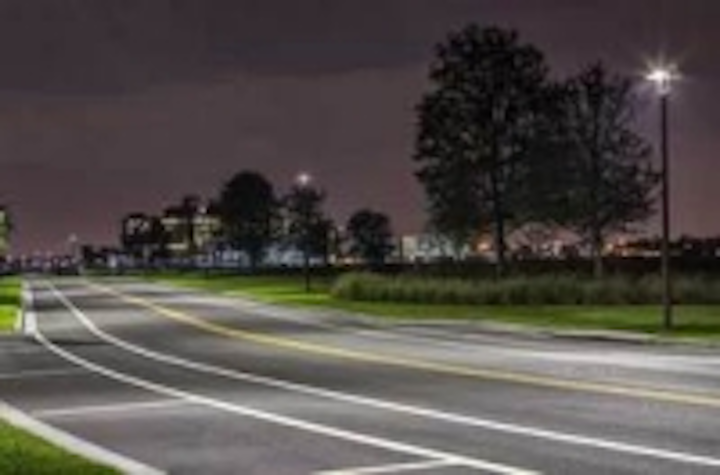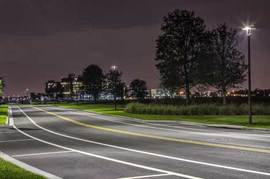 Date Announced: 05 Sep 2012
East Cleveland, OH — When Lake Nona pursued a vision to line its Southeast Orlando streets with new lighting, the 7,000-acre, master-planned community needed to match exacting aesthetic guidelines to leading-edge technology. Community leaders found their answer in GE Lighting's Evolve™ LED Contemporary Twin Support Post Top and Evolve LED Roadway fixtures. Combined, the energy-saving street lighting fixtures will consume approximately 253,000 fewer kilowatt hours (kWhs) of electricity a year as opposed to traditional high-intensity discharge (HID) lighting – a $27,000 utility cost reduction.
Adjacent to Orlando's international airport, Lake Nona was established in the late 1980s and has continued to grow into the state-of-the-art community it is today. A recent surge in development caused Lake Nona to consider new energy-saving street lighting to match the modern architecture and design of new businesses, medical facilities and a residential neighborhood of 2,700 homes.
"We wanted to push our energy savings initiatives, so we made the commitment to going 100 percent LED with our street lighting," said Richard Levey, vice president of planning, Lake Nona. "But none of the decorative fixtures we were being shown had the exact design aesthetic we wanted, and we felt it was critical to install a forward-focused lighting solution to go above and beyond in all aspects of the community to build long-term value for our residents."
Lake Nona architects connected with GE Lighting engineers to arrive at a decorative fixture solution that matched the community's contemporary look and feel. The fixture uses the same energy-efficient LED technology as other GE Evolve LED post top fixtures; the base and pole being specially designed for Lake Nona.
More than 370 Evolve LED fixtures now illuminate Lake Nona where a 175-watt metal halide system had been originally proposed. GE's 86-watt LED fixtures will save the community about $18,000 a year by drawing 170,000 fewer kWhs.
Orlando's local electric utility, Orlando Utilities Commission (OUC) also helped make Lake Nona's decision easy with its OUC Convenient Lighting Program. This program bundles pole and luminaire purchases, installation, design, expertise, maintenance and energy costs all into one convenient point of contact.
"The payback for us has been almost immediate—we've essentially seen savings since day one," said Levey. "Lake Nona's unique relationship with OUC coupled with OUC's long and successful partnership with GE Lighting ensured this project would proceed flawlessly. The LED technology is so efficient that, when paired with an energy credit also earned from OUC, it didn't make sense not to install the new fixtures. It was a win-win."
Throughout Lake Nona, GE's Evolve LED Contemporary Post Top fixtures also reduced glare commonly cast onto lawns or into homes by conventional street lighting.
"This lighting is exactly what we wanted. It fits perfectly with our vision—it's the right scale and the right character. GE did what we didn't think was possible—they took an idea, really a picture, from us and turned it into a phenomenal product in record time," said Levey, explaining Lake Nona received the first fixtures in time to satisfy the project's aggressive timeline.
Around Lake Nona, new lighting on more heavily traveled arterial and collector streets was also installed. GE's Evolve LED Roadway fixtures, drawing 130 watts each, avoided a 250-watt high-pressure sodium (HPS) fixture design, saving 83,000 kWhs annually, or nearly $9,000. The 134 fixtures feature advanced reflective optics to more efficiently aim light where it's needed. A unique heat sink design further provides excellent thermal management to extend LED life.
GE Evolve LED Contemporary Post Top and Roadway fixtures have helped Lake Nona achieve its goal of creating a community both contemporary and futuristic in nature. And this represents only 10 percent of total project completion. In coming years, Lake Nona anticipates more than 5,000 GE outdoor LED fixtures will be installed at community education, medical, retail, residential and recreational facilities.
LED lighting installations are just one component of a larger corporate relationship between Lake Nona and GE. GE's ecomaginationSM and healthymagination solutions are being showcased in hospitals, homes and clinics as part of Lake Nona's commitment to developing an innovative health and sustainability community. Among GE's innovative, energy-efficient products currently available in Lake Nona homes are compact fluorescent (CFL) light bulbs and ENERGY STAR-qualified appliances including refrigeration, laundry and water heater units.
"The specific example of the LED streetlight project speaks about the level of this kind of relationship between Lake Nona and GE," said Cody Bunce, Associate, GE Enterprise Team. "The fact that the Lake Nona team brought realistic ideas of what they wanted to accomplish with LED light fixtures made their big ideas, like creating a lamp to call their own, very doable."
For more information about the GE Lighting products used in this project, visit www.gelightingsolutions.com.
Contact
David Schuellerman
E-mail:david.schuellerman@ge.com
Web Site:www.gelightingsolutions.com