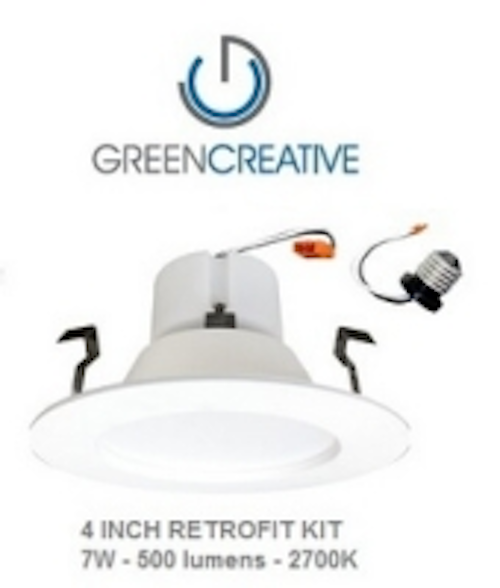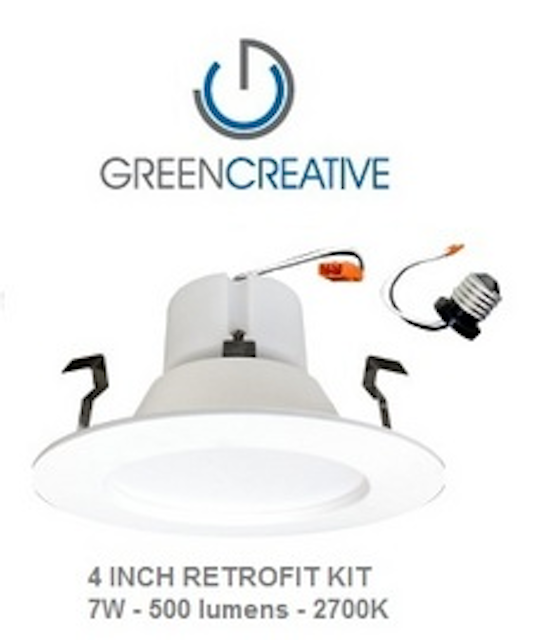 Date Announced: 20 Sep 2012
San Mateo, CA - GREEN CREATIVE LLC, the Commercial grade LED lighting manufacturer announces the availability of its new CORE 4 inch downlight retrofit kit. This new addition to the line complements the recently released but already popular 6 inch retrofit kit.
It is a perfect solution to replace inefficient incandescent R20 that are very common in all 4 inch can used in hospitality, residential and office applications. The product is optimized to fit most 4 inch recessed housing in new construction or existing installation.
The kit integrates a high quality white finish aluminium trim that will appeal to the most demanding customers. But, the true specificity of the products is in its lighting effect. Indeed, once the light is turned ON, the CORE 4 inch retrofit kit will fully replicate the lighting effect of an incandescent lamp. It is thanks to a high quality diffuser and a specific construction that GREEN CREATIVE is able to offer a product without any LED "dots", only a very soft and comfortable diffused beam.
Since the kit is deemed to replace the lamp and the trim at once, the design is not constrained by the R20 lamp form factor anymore. Therefore, the company could focus on an exclusive solid state lighting design taking full advantage of all the space available in the can for optimum performance and reliability.
This specific design enables GREEN CREATIVE CORE downlight to achieve exceptional efficacy of up to 71 LPW (lumen per Watt) in Warm White, setting a new standard in the industry. With 7W its 500 lumens lighting output makes it a perfect replacement for the most common incandescent 50W R20. It is available in 2700K and will dim smoothly on most existing dimmers.
As for installation, neither wiring nor tools are required; it is just a matter of removing current lamp and trim from the can, connect the kit and insert it in the housing. There are 3 connection options to meet existing or new installation requirements. All products are built with an LED connector (orange color) which can either directly connect to an LED connector if it is an LED can, or to the provided E26 base adaptor for standard housing. GU24 adaptors are also available from the company.
The product meets California Title 24 High Efficacy Requirements when installed with GU24 base or LED connector. ENERGY STAR testing is already completed successfully, online listing should appear promptly.
The product is available through GREEN CREATIVE distributors. For more information on where to purchase the products near you or how to become a distributor, please contact us at: sales@gc-lighting.com or (866) 774-5433.
Datasheet and detailed information about these new products available at: http://www.gc-lighting.com/products/4-7w-dimmable/
About GREEN CREATIVE LLC
GREEN CREATIVE is a major solid state lighting development; sourcing and manufacturing company specialized in providing high quality LED lighting products. The company is committed to provide only relevant high performance products that have been rigorously engineered, manufactured and tested for the demanding commercial market. More information about GREEN CREATIVE is available at http://www.gc-lighting.com
Contact
GREEN CREATIVE LLC 1670 S. Amphlett Blvd. San Mateo, CA 94402 Tel / Fax: +1 (866) 774-5433
E-mail:info@gc-lighting.com
Web Site:www.gc-lighting.com