Crossroads LED installs ultra-efficient, retrofit LED luminaires at the Tulsa Performing Arts Center, Tulsa Oklahoma
Sep 10th, 2012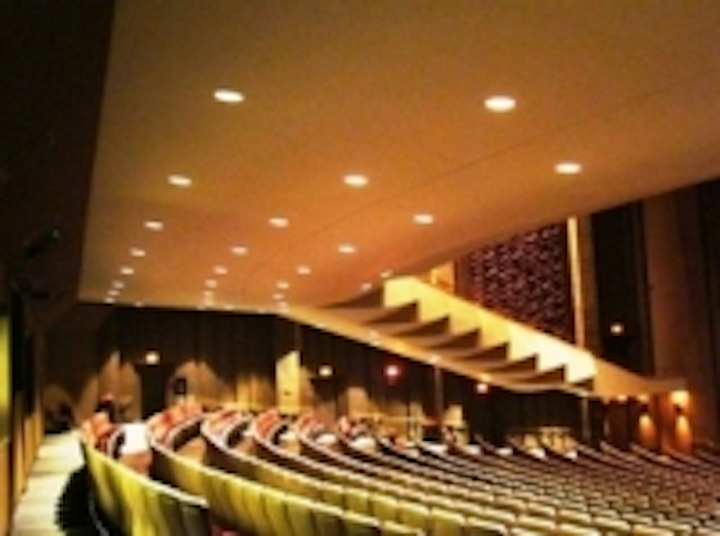 Date Announced: 10 Sep 2012
The retrofit luminaires are compatible with ETC and Strand dimming controls in use at performing arts centers, theatres, museums and amusement parks.
Crossroads LED, a designer and manufacturer of energy-efficient white and multi-color LED lighting products, recently completed the first stage of a massive LED retrofit of the Performing Arts Center in Tulsa , Oklahoma.
The Performing Arts Center (PAC), which occupies half a city block of the historic downtown district and houses five fabulous theatres and a world-class reception hall, awarded Crossroads LED a contract to renovate the existing lighting platform of the PAC to energy-efficient LED luminaires earlier this year.
Crossroads LED's unique and proprietary LED technology provides its customers with the option of retrofitting their existing light fixtures with LED luminaires that are 500 times more efficient than the existing lighting platforms. "Our retrofit products have allowed our company to successfully compete in the ever increasing and competitive LED illumination market and win major lighting contracts," said Dana Stefanoff, President of Crossroads LED, "because large venues often do not have the resources to purchase all new LED fixtures for their facilities. Our retrofit luminaires are a cost-effective solution to increasing light output while decreasing energy usage. It's a 'win-win' for venue owners."
One of the challenges was developing a LED luminaire that was 100% compatible with the existing dimming controls as well as compliant with many energy companies recent rebate programs. "These are not your regular wall mounted dimmers," explained Buddy Stefanoff, VP and Senior Design Engineer. "They are large industrial, computer-controlled units designed to control hundreds of lamps simultaneously." The LED luminaires had to function in unison from 0 to 100% dimming, utilizing these controls without flickering or flashing. "Developing this technology was the final step in completing this phase of the retrofit project."
Before the LED retrofit, the PAC required 23,250 watts of power to illuminate the auditorium. After the LED retrofit units were installed, the power requirement was reduced to just under 3000 watts. "The installation is 87% more efficient than the previous lighting platform," stated Buddy Stefanoff, "and we were able to double the light output of the existing fixtures."
Crossroads LED's approach to consumer-oriented marketing and support, in addition to their proprietary and innovative technologies and designs, has brought them a number of unique opportunities in the industry. "We do not approach our customers with a generic LED package and say, 'Here are our lights … now make them work with within your facility'," says Dana Stefanoff, President of Crossroads LED. "We take the time to listen to our clients and find out exactly what their lighting requirements are. This approach builds trust and confidence as we work together to provide them with exactly what they require … and with the efficiencies they need."
ABOUT THE TULSA PERFORMING ARTS CENTER:
The Tulsa Performing Arts Center occupies half a city block of Tulsa's historic downtown district. The PAC is the design of Minoru Yamasaki, the architect of the World Trade Center. It houses five fabulous theatres and a reception hall. More than a quarter-of-a-million people visit the Center each year to attend performances from one of Tulsa's seven acclaimed musical and dramatic companies including the Tulsa Ballet, Tulsa Symphony Orchestra, Tulsa Opera, and a variety of symphonic groups. The PAC hosts a multitude of cultural events through the fall, winter and spring, making it one of the most visited buildings in Tulsa.
ABOUT CROSSROADS LED:
CROSSROADS LED, LLC, located in Collinsville and Owasso, Oklahoma, is an electronic engineering and manufacturing company that specializes in the solid-state lighting (LED) industry. The company provides "Made In America" innovative and state-of-the-art LED lighting solutions to the commercial, industrial, amusement, entertainment, and architectural lighting industries.
Contact
Buddy Stefanoff
E-mail:buddy@CrossroadsLED.com
Web Site:www.CrossroadsLED.com