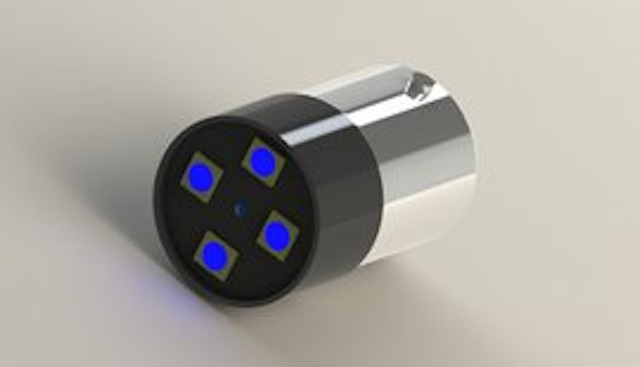 Date Announced: 05 Nov 2012
New range benefits from Marl manufacturing investment
Ulverston, UK - Marl International has introduced a competitive new series of BA15d LED bulb replacements using half the power of the existing range and based on the latest surface mount LED technology. The new Marl 240 Series of LEDs is manufactured using the company's new surface mount line in Ulverston, and is also designed to be more aesthetically pleasing.
Marl 240 Series LED bulb replacements draw one-quarter of the power of a standard BA15d incandescent bulb for which it is a plug in replacement. With a rated life of 100,000 hours continuous illumination, they often outlast the control panel in which they are fitted and can thus be eliminated from the maintenance schedule. They can also operate utilising a much wider voltage range from 8-48Vac/DC or 48-130Vac/DC. Like the existing range, they are electrically bi-polar and are fully potted for increased reliability and ideal for high vibration applications. Colours offered are warm white, amber, white, red, green and blue. For a true filament lamp replacement, the warm white version can be used behind a coloured lens.
Commenting on the launch, Marl Managing Director, Adrian Rawlinson, said, "Marl has been able to introduce this exceptionally competitive new range of LED bulb replacements following our recent £400,000 investment in improved product design and manufacturing facilities. Our key strength is the fact that design, prototyping, volume production and test takes place under one roof at Marl's facility in Ulverston, Cumbria. With the launch of the 240 Series, we are offering Marl customers the best LED technology on the market designed and assembled at a top class UK manufacturing facility."
About Marl International:
Marl International has specialised in the design and manufacture of visible LED indication and illumination components and systems for nearly 40 years. As UK distributor for Citizen, Lighting Science and Bivar and hub of a pro-actively managed international supply chain, Marl has unique access to some of the best Solid State Lighting and Electronics technology in the world. It integrates these technologies into energy efficient lighting and indication solutions. Marl International has world class design and manufacturing facilities, staffed by 120 highly trained and experienced specialists operating from a single site on a dedicated technology park in Ulverston, England. As a unified team, they offer agility, speed, flexibility, and willingness to respond to both needs and expectations as projects evolve and mature through the entire product life cycle. Marl partners with leaders in Defence, Aerospace, Entertainment, Transportation, and Lighting industries in the UK, Europe, North America, and Asia.
Marl is a quality company. It is registered to BS EN ISO 9001:2008 standard and fully RoHS and WEEE compliant.
Contact
Elain Hodson Neesham PR 7 Station Approach Wendover Bucks HP22 6BN
E-mail:elaineh@neesham.co.uk
Web Site:www.neesham.co.uk